Craigslist dental hygienist jobs don't work?
Try Cloud Dentistry and start browsing jobs today, free for dental professionals.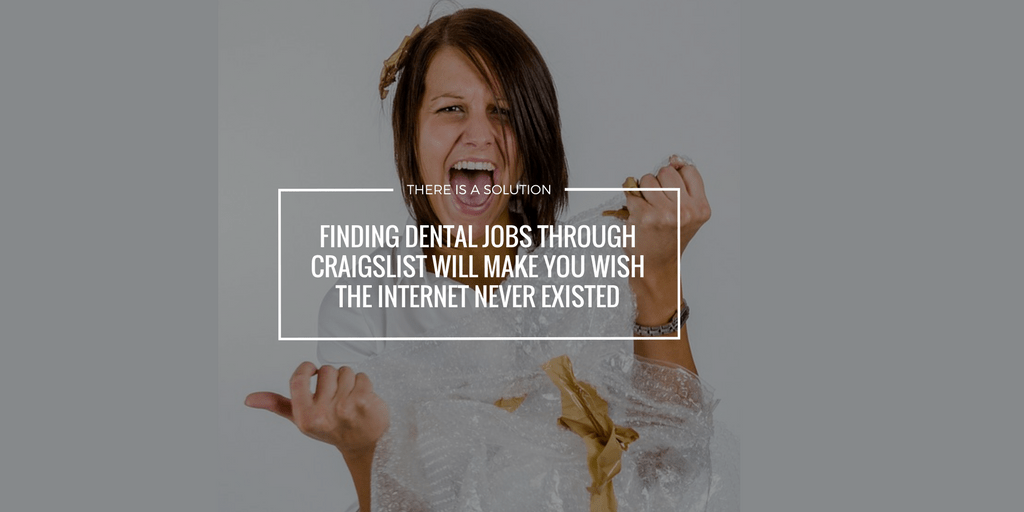 ...and give Cloud Dentistry a shot instead.
A lot has changed in dentistry since the COVID-19 outbreak. While things might be quiet for your practice right now, your patients will gradually overcome their associated fears and your appointment schedule will begin to fill up once again. When it does, you'll need an excellent team of qualified dental staff to help you handle all your treatments and procedures.
While it's tempting to post your dental assistant jobs, dental hygienist jobs and other available positions on Craigslist, doing so is a bad move for your business.
There are a couple of advantages to hiring dental staff this way. The service is affordable and it allows you to target a global and local audience at the same time. But there are far more disadvantages to using Craigslist which tip the scales in favor of other, more modern platforms.
What's wrong with Craigslist?
Some people will tell you horror stories of dealings with scammers and low-quality employees they found through Craigslist. While other practice owners will tell you of their incredible experience with the site and how it helped them find the best part-time dental assistant they've ever had.
Just because these stories are at the opposite ends of the scale doesn't mean they're not both true. You might get a fantastic candidate—a true helper at heart who you want to hire right away. On the other hand, you could end up with a lazy worker who wasn't totally truthful in their application for the job.
That's the thing with Craigslist. You often never know what you're going to get until it's too late.
Here are some of the problems you'll encounter when posting your dental assisting, dental hygiene and other job openings on Craigslist:
Unqualified applicants for your dental jobs
With more than one million job postings each month, Craigslist is huge. But because the site isn't specific to dentistry, you're likely to hear from many unqualified applicants when you post an opening.
The site is notoriously filled with serial job applicants who apply for anything and everything. Especially at a time when many people have recently been laid off work due to the coronavirus. Some users don't realize (or don't care) that dental hygienists, dental nurses and dental assistants need genuine credentials to practice.
This means you're left with the task of sifting through hundreds of totally unsuitable resumes while keeping an eye out for the true potential candidates.
If you want to hear only from qualified applicants, the best thing to do is use a service that's specifically designed for the dentist industry. Of course, there are dental job boards and dental temp agencies that meet this requirement. But they may not be the best places to fill your dental staffing needs (more on that below). You'll need to go where the talent is and the best dental workers are using Cloud Dentistry.
A bottom-of-the-barrel reputation among dental assistants, hygienists and dentists
Many job applicants see Craigslist as a place where low-quality employers look for cheap labor. It's also rife with scam artists who attack people looking for work as well as people hiring.
Because of the site's poor reputation, the best candidates simply don't look for jobs there. Someone who has been working for years as a dental assistant wants something better than Craigslist can provide. They don't want to fall victim to scams. And they don't want the hassle of applying to a job only to find an employer who will take advantage of them.
When you post your job on Craigslist, you run the risk of being associated with the bottom of the barrel. It's a waste of time and it could actually damage your reputation in the long run.
A low-tech tool for dental staffing in a high-tech world
Think about it. Craigslist isn't much more than an enormous job board. There are much more powerful tools out there to help you find the best dental contractors. When you post your ad on a job board or on Craigslist, you don't get any support along the way.
We live in the 21st century and hiring tools should assist the dental operator in actually filling vacancies, not just in posting messages online.
Today's premier dental hiring solution, Cloud Dentistry has a number of powerful tools designed for assisting you in your candidate search. Full professional profiles, booking calendars, real-time messaging and a review system all help you find the right person for your dental job.
A word of advice: dental job boards and placement agencies are just as low-tech as Craigslist. They may even be worse. The right system uses technology to put control in your hands. It doesn't make sense to hand that control over to a staffing agency—and pay for the privilege—when you can hire quality professionals in a fraction of the time and at a fraction of the cost with Cloud Dentistry.
Where can you turn for dental staffing?
If Craigslist is risky and job placement agencies are a money drain, where's the best place to hire dental professionals?
You need a tool that uses technology to save you time, has a good reputation among dental professionals and is dentistry-specific. That's where Cloud Dentistry comes in, helping you to truly harness the power of technology when it comes to hiring dental professionals.
Craigslist is just a website, but Cloud Dentistry takes full advantage of cloud technology. By searching and browsing the profiles of qualified dental professionals, you get exactly what you need quickly.
For example, if you need someone with experience in assisting the dentist with pediatric patients, you can get a list of candidates that meet your requirements instantly. The cloud-based platform saves you even more time by letting you see each candidate's rates, qualifications, availability and reviews.
Cloud Dentistry is, of course, specific to dentistry. If you need a dental assistant, you'll get in touch with qualified professionals who know that working as a dental assistant requires training and certification.
You won't hear from applicants who are looking for any old job. The platform also has a great reputation for assisting dental professionals in finding work. Because of that reputation, the people who meet your job requirements have created their profiles and are looking for work on Cloud Dentistry.
Craigslist isn't the right place for dental staffing. Cloud Dentistry is.
Craigslist isn't dentistry-specific, it doesn't have a great reputation and it doesn't provide the full benefits of today's cloud technology. Dental practices that want to hire workers without wasting time and money can find what they need with Cloud Dentistry.
The platform has a history of connecting dental practices with dental workers, assisting both in finding exactly what they need. Real time messaging, searchable profiles and online scheduling make it easy to fill staffing gaps in no time.