Still working for a dental temp agency? 5 Reasons to switch to cloud
Stop working for a dental temp agency. Start working in the cloud. Be your own brand and start earning more.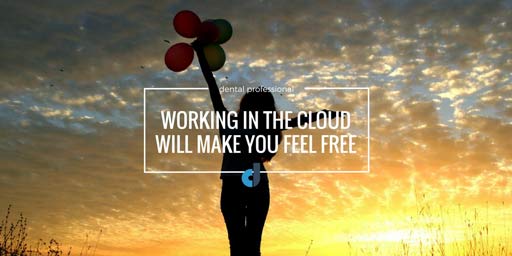 If you're a dental hygienist, dental assistant or dental auxiliary professional, a dental staffing agency may seem like the obvious place to find work. It's fraught with problems, though, and those problems can get in the way of your profits. Fortunately, there is an alternative. Cloud Dentistry is a cloud-based dental staffing platform that outshines any agency. Here's why you should consider making the switch from the agency to the cloud.
1. Find work faster than with a temp agency, even at the last minute.
With dental hygiene placement agencies, you're at their mercy when it comes to scheduling. You go through the agency's application process and then sit back and wait. It helps to keep yourself available in case a last-minute job comes through, but if it doesn't, you're waiting around for nothing.
Dental practices play the waiting game, too. When they need help, they can't get it immediately. Their lost time is your lost time—time you could be using to earn money.
The cloud is a natural solution for this. With high-tech services like Cloud Dentistry, dental practices can schedule dental assistants, dental hygienists and others ahead of time or the same day. When you use cloud-based technology to manage your schedule, everything happens in real time. This convenience affects everyone, helping both dental practices and dental professionals.
2. Dental temp agencies stifle your earnings; you can do better.
When you work for a dental placement agency or other outdated agency that assists the dental operator in staffing, part of your earnings go to that agency. At first glance, it may not seem that way. After all, when the agency tells you you'll make a certain amount per hour, that's what you receive. The problem is that they charge dental practices high fees. These fees add up by the hour. On top of that, if a practice wants to hire you full time, they pay even more.
Agency fees mean you take home less. The practice has less to spend on your hourly wage, and they have less overall, which could mean reduced hours for you. They may also hesitate to hire you when it comes time to take on a full-time employee.
The cloud comes in handy here, assisting you in getting jobs that pay more. When there's no middleman to pay, practices have more money to spend on dental professionals like you. They actually save money, so they don't mind paying professional rates. They also won't have fees to deal with if they choose to hire you full time. By providing advanced job-matching tools at an affordable rate, Cloud Dentistry serves as your personal helper in bringing in more work at higher rates.
3. Dental staffing agencies dictate your schedule. With the cloud, you can set your own schedule and availability.
With a dental assistant temp agency, you don't have much control over your schedule. Sure, it's easy to say something like, "I don't want to work on Wednesdays," but once your availability is set with the agency, it can be a pain to change it.
When you work for yourself, you're in charge of your own schedule. With cloud-based tools, it's easy to change your availability at the last minute. Dental practices can see your availability online and schedule you when you want to be scheduled.
4. Placement agencies choose the practices you work for. With cloud-based tools, it's up to you.
Dental staffing agencies don't give you much—if any—say in who you work for. They tell you when and where to show up, and not much else. If there's a particular practice you're interested in (or one you'd rather not work with), it just doesn't matter to the agency.
It matters to you, though. As a cloud-based platform, Cloud Dentistry cuts out the middleman, allowing direct, real-time communication between you and the dental practices that need you. It lets you to get to know practices you may work for.
What's more, the whole system puts you in control of the jobs you accept or reject. You can turn down anything you don't want, leaving you free to take jobs that are a good fit for you. A career in dental assisting, dental hygiene or dentistry can take on a new life with the help of the cloud.
5. You're just a name with a placement agency. Cloud technology lets you work under your own brand.
Working with a temp agency gives you no opportunity to advertise yourself. When a practice signs on with an agency, they're there for the agency, not you. That makes you little more than a name on a list.
Cloud technology makes it possible for you to keep an online profile, so you're much more than just your name. Like a resume, an online profile tells potential employers all about you. Whether you're a dental assistant, dental hygienist, dental therapist, dentist or specialist, you can put your brand online.
Unlike a resume, your online profile is easily changed. You can update your credentials, availability and hourly rate. With Cloud Dentistry, you can also display reviews from practices that have worked with you before, giving you an edge. Cloud technology makes your profile searchable and easy to access, helping you find work without the need for an agency.
The cloud makes working for yourself better
Dental assisting, dental hygiene and other dentistry jobs make great careers. If you've been working through a temp agency, it's time to make the switch to the cloud. Today's technology can help all kinds of dental professionals from dental assistants to alveolar consultants find jobs that are right for them.