Dentistry's bright future will make you glad you're a dental professional
The future of dentistry staffing is bright. In this article we explore how your career might look in 2024 and beyond. Read more here.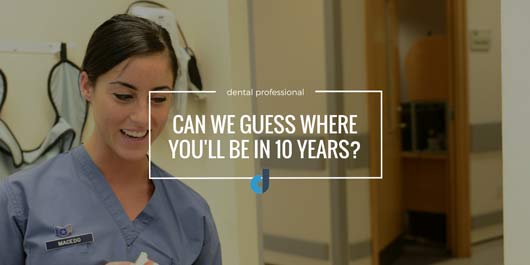 Dentistry's bright future will make you glad you're a dental professional
Since the outbreak of COVID-19, it's unlikely dentistry will ever be the same again. But what is certain, is that the future of dentistry is bright and promising, regardless of the worldwide pandemic.
Dentistry is an in-demand field that will forever be important. People will always need help keeping their mouths, teeth and gums healthy. As science teaches us more about the importance of oral hygiene and cosmetic dentistry becomes increasingly popular, the need for outstanding dental professionals will continue to grow.
Add to that an aging population that will need greater dental care in the next few years and the outlook for dentistry is extremely bright.
The Bureau of Labor Statistics predicts an 11% growth for dental hygienist jobs between 2018 and 2028 and an equal rate of growth for dental assistant jobs over the same period. Dentists can also look forward to a prosperous future, with a predicted 7% growth between 2018 and 2028.
All these anticipated growth rates are faster than average, providing reassuring proof that dentistry will continue to grow throughout the next decade. And it shows no signs at all of slowing down any time soon.
There's a reason dental hygienists, dental assistants and dental nurses are in high demand. Most of them are natural helpers who went into dentistry to make a difference to people's lives. Dental professionals affect the public in profound ways. They're so much more than dentist supporters, and people will continue to need them even as dental technology advances and improves.
During the coronavirus pandemic, dental professionals put their lives at risk on a daily basis to provide urgent dental treatment to those in need. Even with no COVID-19 vaccine in sight and with major problems sourcing PPE, dentists, dental hygienists and dental assistants still showed up to work to offer emergency dental procedures to anyone in pain.
These crucial workers are just as important in everyday life as they are during a virus outbreak.
Dental hygienists and assistants will continue to be essential
As key producers, dental hygienists are essential to any dental practice. That's why they're in such high demand. They spend a great deal of time helping patients and are responsible for everything from routine prophylaxis to X-rays.
A dental assistant assists the dental operator and is extremely important to the practice he or she serves. Working as a dental assistant involves assisting both hygienists and dentists, helping to make sure each appointment goes smoothly. But it's not just about assisting the dentist. These important staff members are often directly involved in patient care.
Dental assistants and dental hygienists contribute to the health of the practices they work for. More importantly, they boost and maintain the health of their patients. No matter what the future holds for dentistry, qualified dental professionals will always be needed to keep the population healthy.
Full-time dental hygiene and dental assisting jobs
Dental offices are always hiring dental staff to meet demand. Although availability varies between offices, many dental practices hire full-time hygienists and assistants to handle their daily workload. There's a lot to be said for permanent, full-time employment. For those who want stability and long-term commitment, a full-time job may fit the bill.
But even with the growth in dentistry, full-time work in a single practice isn't the answer for everyone. The availability of full-time work relies largely on the local market. Often dentists choose to hire part-time or temp workers to meet their dental staffing needs. At the same time, many dental hygienists and dental assistants need more flexibility in their careers.
Alternatives to the 9 to 5 for dental hygienists and dental assistants
Today's fast-paced culture means that both patients and dental workers are looking for flexibility. Dental practices are responding to changes in the economy and culture by hiring part-time workers on a short-term or long-term basis. This creates an opportunity for dental professionals to take control of their own careers.
Instead of permanent, full-time jobs, many dental professionals are crafting their own part-time or full-time schedules to suit their personal and professional goals. Others take on additional work outside their normal jobs.
In some states, working for a dentist isn't the only option available to dental professionals. Dental hygienists can work on their own in many states. In Oregon, for example, a dental hygienist can get a permit to practice independently of a dentist. The number of states a dental hygienist can practice in independently is expected to increase as accommodations are made to relieve shortages in the dental profession.
Dental jobs are available online
The anticipated growth in dental jobs means dental professionals will have much more control over the future of their careers. Not only will they be able to decide where they work, when they work and how much they earn, but they'll also get to choose where they look for work.
Making the right decisions early on can help dental professionals land their ideal jobs and take full advantage of the bright outlook of a career in dentistry. Everything from part-time dental assistant jobs to full-time hygiene work can quickly and easily be found online.
As demand for dental services increases, there will also be an increase in online job postings. Options for dental professionals cover everything from traditional job boards and placement agencies to more modern and innovative solutions like Cloud Dentistry.
A word of advice as we move into the future
Dental hygiene and dental assistant careers are taking off big time. Don't let a stale job board or restrictive dental temp agency hold you back. Both these methods are outdated.
To take full advantage of the bright future in dentistry, it's important to use tools that help you find the jobs that are right for you. Cloud Dentistry gives you the opportunity to create a professional profile, set your own rates and decide when and where you want to work.
The cloud-based platform provides you with the tools you need to talk directly with hiring managers, getting you one step further to finding the perfect job. Future-focused technology gives your dental assisting or dental hygiene business a huge boost in comparison to older methods.
Growth in jobs and in technology
Whether you're looking for a single, permanent job or you're offering your services through a cloud-based platform, now is a great time to be in dental hygiene or dental assisting. The job outlook is excellent and job-matching technology is developing quickly.
When dental professionals use high-tech tools to find quality jobs, they can take full advantage of the projected employment growth.