Future of Dental Staffing: How Machine Learning Will Get you a Great Job
Artificial Intelligence will change the lives of dental professionals. Read about how it will change your career and future.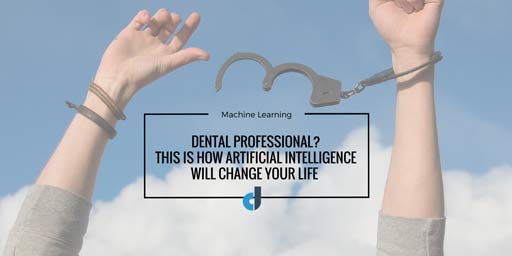 In recent years, organizations have set their sights on improving their hiring process, and it is resulting in lots of changes as to how candidates are considered, sourced, and recruited. Today, companies look at fewer CVs than ever, and some no longer advertise their open positions with traditional media.
As a modern job seeker, it is crucial to understand the technologies employers are using in their recruitment process today. By familiarizing yourself with the digital rules of hiring or outsourcing, you will be in a good position to make it past the layers of technology that come between you and your dream post.
AI and machine learning in the world of hiring and job searching
As mentioned already, technology is constantly under development, and you may have seen it within the hiring and job searching processes. Freelancing platforms, for example, send personalized emails to freelancers that advertise jobs matching their skill sets. Those emails are automated, created by computers that learn users' preferences and determine what might be of interest.
Many job boards and online job-matching platforms allow users to search for jobs and set up alerts. The unique results they accumulate are partly thanks to artificial intelligence (AI). Machine learning is developing in staffing, and its development will particularly help dental professionals find the jobs they want.
With uncertainties and safety concerns associated with COVID-19, employers are relying heavily on technology for all aspects of hiring, recruitment, interviewing, and even onboarding.
What does the future hold for dental staffing?
As AI technology progressed, staffing in general seemed to be lagging behind. That is until recently. New technologies that are currently in development will revolutionize the industry.
Computers that can find, vet, and chat with job candidates may make recruiters more productive. Of course, these machines can't replace recruiters and HR professionals; they can only give humans an edge. Human interaction will always be part of the deal. After all, in an industry with as much human interaction as dentistry, it's important that actual people have the final say.
Tech makes a big difference for job seekers.
Just like patient scheduling is becoming an automated process, other technology is developing on the job-search side, too. Search tools are getting smarter, helping dental hygienists, dental assistants, and dental nurses find jobs. As tools get smarter, job seekers will move away from dental temp agencies in favor of more high-tech options. Smart search engines will draw from sources around the web. They'll find jobs that human job seekers might not and alert users to prospects.
What is technology doing for dental jobs now?
It's not all about the future. Technology is helping people find jobs now. Professional networking sites and online job boards have long employed search features. But machine learning is advancing and making job searches even easier. In June 2017, Google launched a new search feature that helps job seekers identify and apply for jobs. This is good news for job seekers. People in unique industries, however, may do better with specialized tools.
Dental assistant jobs and dental hygienist jobs are a unique niche, and finding the right one requires tools designed for that niche. Knowing this, dental hygienists, dental assistants, and professionals who assist dental operators are looking to Cloud Dentistry. The platform incorporates multiple high-tech features, assisting the dentist in finding ideal candidates and assisting job seekers in finding great jobs.
Cloud Dentistry uses today's tech to make the best job matches.
Cloud Dentistry delivers specialized search results, assisting job seekers in finding the right match. It replaces the job placement agency, using today's cloud technology to help dental professionals find the right jobs.
Someone looking for work as a part-time dental assistant in Houston, TX, for example, can find available openings that match those criteria with the help of advanced search features. Someone who is already working as a dental assistant but wants to take on additional work near their home can find what they need.
In addition to advanced search features, the platform's technology allows dental professionals to build their own brands. They can share their availability calendars, reviews, and hourly rates on their personal profiles. There's a lot of potential there for machine learning and AI. In the meantime, cloud technology is extremely advanced and goes a long way in helping dental professionals find the jobs that match their specific needs.
For those jump starting a dental hygienist or dental assistant career, the technology that's available today makes the old way of getting jobs through temp agencies obsolete. Now, dental professionals can manage their own careers and schedules.
How to optimize your profiles and resume for today's technology
It is hard to know when your online resume will be vetted by algorithms before even being seen by an employer, so it is best to assume it will and optimize accordingly.
Basically, these algorithms identify special keywords in the job description and determine if those words — or an equivalent of those words — appear somewhere in your resume or profile.
For instance, say that one of the emphasized job requirements for a particular dental hygienist post is an associate's degree. Most likely, the algorithm will search for phrases like "associate's degree," "undergraduate degree," "graduate degree," "bachelor's degree" on all submitted resumes or online profiles.
Therefore, when applying for a position, always review the requirements and ensure that you have included a brief statement on your profile that describes how you meet each requirement.
In other words, you need to include phrases and words recruiters might be looking for in your profile, but make sure not to repeat the same phrases and keywords over and over again. A resume overstuffed with keywords to adhere to the algorithm is unlikely to make a good impression when it is eventually reviewed by a real person.
Let's recapitulate
"Artificial intelligence" sounds like something from the future, but it's already a part of hiring and searching for jobs. It's only going to become more prolific in the coming years, touching every industry's hiring and job searching.
Although AI technology is only beginning to assist people in dental staffing, current technologies are making a difference. Smart search tools and other advanced tech are already making job matching easier and more effective for both dental practice owners and dental professionals.
Why can't the temp agencies keep up with AI?
Dental practice owners and dental professionals don't have time or money to waste on outdated placement practices. When it comes to high-tech solutions, temp agencies are way behind. Today's on-demand world requires something much more advanced.
The truth about job placement agencies is that they're not enough for today's job seekers and employers. With digital hiring platforms, dental professionals can manage their own profiles and communicate in real time with potential employers, making the temp placement agency (and the fees it charges) unnecessary.