5 dental hygienists share stories of their early job adventures
Dental Hygienists share their stories about their first job hunting adventures. Prevent your own job horror story by reading theirs.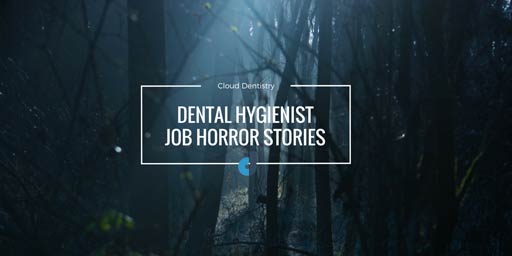 Working as a registered dental hygienist has both its perks and its downsides. They say that once you've gone through your RDH program, completed your licensing requirements and registered with a dental association, you're ready to enter the real world. Of course, that "real world" is full of surprises. Here, five dental hygienists tell us about their adventures in job hunting and working for the first time as fully licensed oral health care professionals.
Candace's working interview nightmare
I know the working interview is something a lot of practices do. I thought it was a good way for a hygienist and a dentist to get to know each other. I thought it was a good way for an RDH to show off her skills in a real practice setting. I thought that even if I didn't get the job, it was a day's work for a day's pay.
I should have known something was off from the start. There was no other RDH and there was no assistant, so it was just me, the dentist, and the dentist's wife, who was working the front desk. I worked the whole day, taking patients and then watching as the dentist barely glanced into their mouths. The patients were nice, but the dentist hardly said three words to me. He obviously didn't want to be there, and it seemed like he didn't really want me there either. I mean, what's the point of having a dental practice if you're not going to practice dentistry? And why would you offer someone a working interview without doing the interview part?
At the end of the day, I asked the dentist's wife about my payment, and she said they'd get back to me. After a week, I called and left a mesage. They never returned it. When I went back to the office in person, they said they'd get back to me again. I have no interest in working for them, but I think I deserve at least the day's pay that I was promised. Now I'm not sure I'm even going to get that.
Rachel's expanded job search
In the last weeks of my licensing program, I started looking for full-time jobs and couldn't find one. Oh well, I thought, there's still time. I'll just keep looking. Well, I looked. And looked. When I didn't get any of the jobs I found online, I pounded the pavement, handing out resumes by hand. It just didn't work. All my friends had the same story; nobody was hiring.
After doing some research online, I found out that some states had much higher demand than mine. I was licensed in Tennessee, but I realized that I didn't have to limit my job search to my home state. I knew it wouldn't be fun to get new licenses, but I decided to think about where else I might like to live and work. I decided to move to Colorado. It was kind of a pain to get a Colorado license with no practice experience, but I eventually did it and registered with the Colorado Dental Hygienists' Association. I'm so glad I did. The job market in Colorado was much easier to get into once I was licensed, and there's nothing like hiking in the Rockies on my days off.
Lora's slapstick first day
After working through a temp agency for a while, I was fortunate enough to be offered a temp-to-hire job by an amazing dentist in my town. She runs a really great practice that all her patients absolutely love. I loved it, too, and I was really happy to get the offer. I'd worked there a few times, filling in for RDHs who were sick or on vacation, and I always thought I'd like to work there permanently.
Everything seemed great until my first day on the temp-to-hire contract. I really, really wanted to the "to hire" part of the "temp-to-hire," and I got hit with a case of nerves as soon as I walked through the door that day. I tried to tell myself to calm down—that I had done all this before and really impressed the dentist, but for some reason things just got worse. I was actually shaking as I got my workspace ready for my first patient. It went downhill from there. I got the first patient's name mixed up with the second, I forgot to cover the computer mouse with a fresh barrier before using it, and I dropped the prophy paste on the floor. I was a wreck.
The doctor noticed, and I was terrified I would lose the job on my first day. Fortunately, she gave me a little pep talk. She told me she had hired me because she knew I could do it and gave me a few minutes to compose myself before the next patient. The rest of the day went fine, and I've been working in that practice for years.
Vivia's RDH temp agency woes
I chose dental hygiene after learning about it through a career exploration program at my high school. I always knew I wanted to go into healthcare, and I eventually landed on a career as a hygienist after learning about the patient contact and the chance to go into expanded functions. I'm never happy with the status quo and always want to learn more. As soon as I was eligible, I signed on with a dental hygienist temp agency. I thought they would find me enough work to fill my week and pay my bills (including a big student loan).
Unfortunately, things with the agency started off slow and never got any better. I joined another agency and started looking online for work, but I could never get enough. And none of my jobs lasted long enough for me to learn anything new. The pay was low, too. I always thought I could do better if there was a way for me to find and manage my own temp jobs. One day, I got so frustrated with not having any work all week that I started calling dental practices myself.
Eventually, I got to talk to an office manager who was really sympathetic. She told me to look into Cloud Dentistry, because that's where that practice got all their temps. I checked it out online and liked what I saw, so I signed up. I had my first job almost immediately, and it paid more than the temp agency jobs ever did. I'm just getting started, but I've already booked next week—the whole week—with a practice owner who likes that I'm interested in learning new things. I love the idea of running things myself online, and I can't wait to see where it goes.
Alison's quest to change the world
Ever since I was a little girl, I've always wanted to help people. That's why I decided to be a dental hygienist. There were a lot of jobs where I could make a difference in the world—I even considered joining the Peace Corps—but I decided I wanted to stay in the US and help kids while developing my interest in health science.
After working as a temp for a while, I found an ad for a job in a school-based clinic. I interviewed and got it! The first day was hectic. It wasn't just my first day; it was the first day for the school program I was assigned to. We saw a dozen kids while working out the kinks in the system, and by the end of it, I was emotionally drained and energized all at once. I felt physically and mentally exhausted, but I couldn't wait to keep going.
The next day was a little less crazy, and things just kept getting better. The program was so much work, and it was completely worth it. We did prophys and talked to underprivileged kids about how to take care of their teeth and themselves. We could even help the kids in other ways, like by referring them to the school counselor or nurse if they needed it. It was a humbling experience. I saw a lot of pain in those kids, but helping to give them hope for a better future was—and still is—my dream job.
Oral health care professionals have choices
Dental hygienists have such a wide variety of experiences. From school clinics to dental temp agencies to questionable businesses to dream practices, there are so many different places to work. The trick is finding the right one for you (hint: it's probably not the questionable business). Whatever you have in mind for your dental hygiene career, starting a professional profile online with Cloud Dentistry can help you get off to a great start.