My Unplanned Journey into RDH Teledentistry
Teledentistry is a true option for for dental hygienists. Save a lot of time and improve security in times of COVID. Read more here.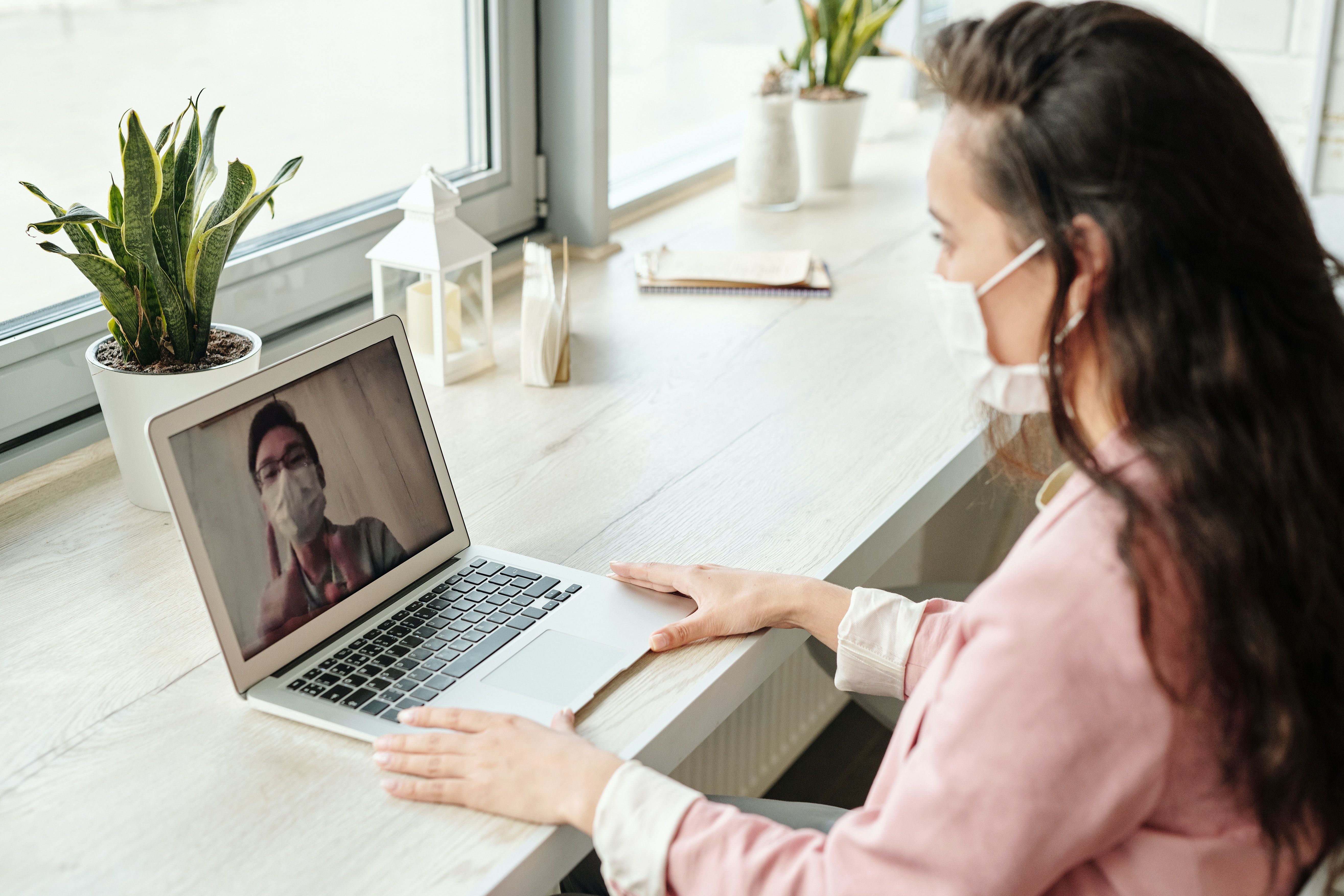 I'd wanted to be an RDH for as long as I can remember. I took the right classes at school, I got my dental hygiene associate degree, completed the exam to get my license and embarked on my new life as a registered dental hygienist with a smile on my face. When I started my first day in a dental practice, I had no idea that just a few years later I'd be treating patients through my computer.
It Started in March 2020
My journey began in March when I was happily working as an RDH in Houston, TX. I developed a small but irritating cough mid-morning which progressed throughout the day. By the time I arrived home after my shift, my cough was much worse, I had a fever, I was struggling to breathe comfortably and I felt exhausted.
Reading those symptoms now, it's clear to see I had COVID-19. But when I fell sick, we knew hardly anything about the virus, so the thought never even occurred to me. I simply thought I had the flu.
I didn't want to pass any germs onto my patients or colleagues. So I called the practices I was working at and told them I wouldn't be in for the next few days. I assumed I'd feel awful for the next 48-72 hours, but I'd be fine and back to work after that.
Three days passed and I still wasn't feeling any better. My lungs felt like they were on fire, I was constantly gasping for breath and I didn't even have the energy to get out of bed. I went to my nearest ER and explained my symptoms. A doctor carried out a few tests and told me that I had COVID-19.
The next couple of weeks went by like a blur and by the time I was released from hospital, dentistry had completely changed. During my hospital stay, I hadn't had the mental strength to keep up with the news and I wasn't allowed visitors, so I had no idea that the world had been turned upside down in a matter of weeks.
The New Face of Dentistry
Dental practices all over the world had closed in an effort to stop the spread of the virus, mine included. I was shocked. I thought dental professionals were meant to put the well-being of the patient first. I understood the need to stop the virus in its tracks, but what about all the illnesses that would be caused as a result of postponing dental treatment?
I was having visions of patients suffering from gingivitis, endocarditis and possibly even oral cancer because they couldn't get a dental appointment. It was keeping me up at night. I couldn't carry on this way so I contacted my boss and started talking to him about the possibility of treating patients remotely.
Putting Teledentistry to the Test
I explained to him that teledentistry would allow us to treat minor dental conditions without putting ourselves or patients at risk. It would also be a great way to help a patient determine if a problem they had was worth a trip to the emergency room. During a global pandemic for a virus hardly anyone knew anything about, the last place most people wanted to go was to the hospital.
Teledentistry would avoid filling the waiting room with patients (so no need to worry about social distancing) and it would also help keep the staff safe by being able to look inside patients' mouths without worrying about water droplets being expelled during examinations. Anyone who was forced to self-isolate would still be able to receive dental treatment from their home, too.
The dentist listened to me and after some serious persuasion, he agreed to trial teledentistry with a few patients. He wasn't convinced it would work. But as his practice was losing more and more money each day the doors were closed, he was running out of options.
I was really nervous doing my first remote dental hygiene appointment, but I grew more relaxed with each patient. Using video conferencing software like Zoom, I could examine a patient's teeth, gums and mouth in total safety, advising them on the best actions to take to improve their oral care.
I'd always loved being able to educate my patients on the importance of continuing their dental care at home, after their trip to the dental practice. And the fact that I was able to continue this via computer filled me with an immense sense of satisfaction.
Embracing Digital Solutions
As making the move to teledentistry was working, we decided to take other aspects of the business digital. We invested in some software that let patients book their appointments online. They could view our operating hours, see which slots were available and book whenever it suited them. This really freed me up from having to answer the phone throughout my shifts.
When the coronavirus hit the US, we started having major problems collecting outstanding payments. Many patients were out of work and were struggling to make ends meet. To make things easier, we offered to delay payments and exchange big one-off payments for smaller monthly payments.
One thing that did really help was texting patients with a personalized message and a link to view and pay their invoice online. This definitely cleared more outstanding payments than the collection agency did.
A Successful Trial
The teledentistry trial was a huge success. We started out by marketing our new remote service so our regular patients and potential new patients knew it was available. We were shocked with how popular it was and how many people booked appointments.
The practice was able to maintain sufficient patient volume for the dentist to pay me and continue paying the rent so he could open up his practice again when the time came. He was also able to determine which patients were in real need of emergency treatment and could schedule their appointments for in-practice treatment in priority order.
Life is constantly changing and until the health situation in the US improves, I'm happy to continue my RDH teledentistry career. It's not my preferred choice — I really miss treating patients face-to-face. But for now, being able to treat patients this way will suffice.
It's Time for Your Journey
If you're thinking about making the move to teledensity, it's important you follow your state's rules. Here's a guide to teledentistry regulations in all US states. Be aware that these rules were set pre-coronavirus. Things could have changed since then, making teledentistry easier to practice.
As soon as you're able to make the move to teledentistry, I really advise you to do so. Even though more practices continue to open up throughout the US, many patients are still naturally anxious about visiting the dentist. There are also many high-risk patients who are self isolating. By embracing teledentistry, you're providing them with the care they need without putting them in danger.