These dental office job descriptions will help you decide which career to pursue in dentistry
If you are thinking of working in a dental office, read these job descriptions first. Learn what a dental assistant or dental hygienist do.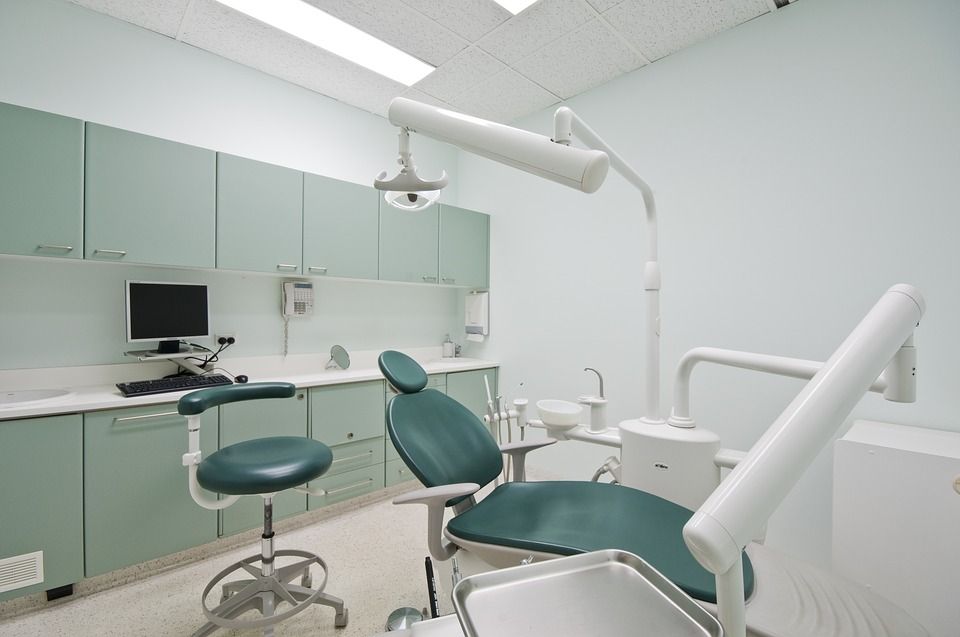 One great perk of living in North America is access to a wide variety of health-related services. Dental care comprises a large portion of the healthcare sector, and in this domain lie many roles to fill.
Different dentists provide and perform many specific procedures. Some run their practices on a solo basis, while others have a team that divides office responsibilities between them.
If you're thinking about entering the dental profession, read below to get some dental office job descriptions and learn a little more information about them.
Dental office staff job descriptions
The front office staff in a dental practice commonly includes a Receptionist, a Billing Specialist (or similar), and an Office Administrator.
A Receptionist most commonly answers phones, schedules appointments, greets patients, and maintains patient records. There is no formal education for this role, is mostly learned in practicum, and can vary from office to office.
The role of Billing Specialist can have different names, but this position typically refers to managing the financial aspects of a dental practice. Similar to a receptionist, Billing Specialists focus on patient accounts, payments and billing, and insurance submissions. There are courses you can take in accounting or health administration to provide you with skills foundation.
An Office Administrator is the person who oversees the efficient and effective operations of a dental practice. Among their many responsibilities, they are involved in hiring and training staff, monitoring and ordering supplies, providing staff evaluations, and managing staff schedules. A GED or high school diploma combined with medical office experience is necessary to fulfill this role.
Dental Assistant job description
While the responsibilities assigned to Dental Assistants can vary slightly from state to state and from one practice to another, typically the role consists of many tasks. These duties include: preparing patients and the work area for specific procedures; taking patients' X-rays; sterilizing dental equipment and instruments; and assisting the dentist while they work on patients. Most states demand accreditation in Registered Dental Assistant programs followed by passing a state exam, whereas others have no education requirements.
Dental Hygienist job description
Seeing the Dental Hygienist is typically the first step in your regular oral health routine. At your check-up appointment the hygienist is responsible for cleaning, scaling, and polishing your teeth; demonstrating techniques for practicing quality preventative oral care at home; and looking for signs of cavities, gingivitis and other diseases. Some hygienists can extract baby teeth and fill cavities. Beyond their service expertise they will refer you to a general dental practitioner.
Typically, a Dental Hygienist is required to possess an associate degree in dental hygiene from a two-year accredited program. After, they must be licensed according to their state (licensing details will vary from state to state).
General Dentist (DDS, DDM) job description
Dentists are doctors that specialize in oral health. There are two kinds of general dentists: Doctors of Dental Surgery (DDS), and Doctors of Dental Medicine (DDM). These two accreditations both mean essentially the same thing: that your dentist graduated from an officially recognized dental school. The kinds of roles a practitioner with a degree of this nature typically goes on to practice general family dentistry.
A dentist is your primary oral care provider and will evaluate, diagnose, treat and prevent oral conditions and diseases within the scope of their education and practice.
If you require follow-up treatments or procedures that are outside your family dentist's expertise, they may refer you for further treatment with other dental specialists like Endodontists, Orthodontists, or Periodontists.
Endodontist job description
An Endodontist is a specialist who treats the inside of the tooth, its soft pulp tissue and roots, such as in a root canal procedure. A root canal can be necessary when there is decay or damage to the tooth below the gumline. Some signs that there could be root damage or decay are temperature sensitivities when eating and drinking, pain when applying pressure to the site, and redness or swelling around the tooth location.
Endodontists are specialists that complete two or more years of post-graduate training in endodontics after finishing their DDS or DDM certification. Aside from root canal procedures, Endodontists also perform more complex procedures like endodontic surgery and other special treatments to repair dental damage and injuries. Endodontists work to save your teeth comfortably and efficiently rather than extracting them, to preserve your natural smile.
Orthodontist job descriptions
Another dental specialty above your family dentist is an Orthodontist. These practitioners specialize in aligning and straightening a patient's teeth and jaw. Your general dentist can refer you to an orthodontist if you have an improper bite, crowded or crooked teeth, or have sustained damage to your teeth.
An Orthodontist will use molds, X-rays and other diagnostic imaging to determine where the misalignment is occurring and decide what treatment solutions are available to you. Typically an Orthodontist's job ranges from applying, adjusting and removing equipment such as braces, headgear, and retainers.
Similar to other dental specialists, these oral care providers are licensed DDS- or DDM-certified dentists that have completed two to three years of post-graduate work in their specialty. Many Orthodontists are solo practitioners, either running their office alone or with orthodontic assistants.
Periodontist job description
A Periodontist specializes in the prevention, maintenance, and repair of gum and tooth issues – it's their job to ensure your gums, connective gum tissues, and jawbone are in optimal oral health.
Periodontists and their assistants play a vital role in their patients having a healthy mouth. When a general practitioner sees gum disease, it is necessary to act immediately to treat any issues to prevent further degradation of your gums so that your teeth and jawline can remain intact. Periodontists are considered the "plastic surgeons" of their industry.
A periodontal candidate completes three years of specialized training that focuses on gum and tooth health after completing dental school. Procedures periodontists learn to perform include: adding implants, scaling and root planing and debridement, operating on the gums and jaws, and treating cancerous gums.