Searching for dental hygiene job? 6 Things you need to know
Being an RDH is not really about teeth and it's about working for yourself. Read more here.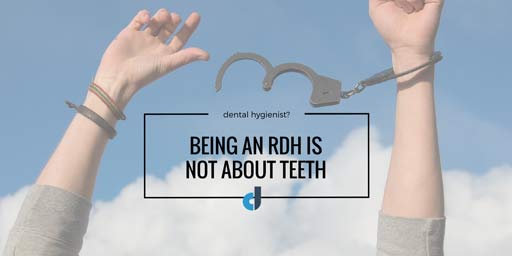 A career in dental hygiene puts you in a position to help others while working in a growing, lucrative field. Working as an oral healthcare professional is a great choice for many reasons, but it's not for everyone. If you are struggling to decide and before spending the money, time and effort to become a registered dental hygienist (RDH), it's important to know as much as possible about the job, including all the advantages and disadvantages of a career in dental hygiene
Here are a few things to consider before jumping into an RDH training program.
1. It's not really about teeth.
You may be considering dentistry because you like its clinical aspects. The best dental hygienists know the art and science of oral health, but they also recognize the importance of a human touch.
It's about patients.
As someone working a job as dental hygienist, much of your time will be spent working with patients. This may sound obvious, but in dental hygiene, your people skills are just as important as your clinical skills.
You're more than just a clinician; you're also an advisor. RDHs help patients learn good oral health habits. They also screen for illness such as thyroid problems and diabetes.On top of that, RDHs represent the entire dental practice in their interactions with patients. Positive interactions are a must. To be a successful hygienist, you'll need to understand both people and their mouths.
Patient interaction is possibly one of the biggest differences between RDH and DDS. A Doctor of Dental Surgery conducts patient exams, performs more complicated procedures, diagnoses medical problems and makes referrals when necessary.
A Registered Dental Hygienist carries out initial check-up procedures and performs more basic tasks, such as making teeth impressions. But as an RDH, you're also responsible for discussing any oral problems the patient may have, as well as advising them on how best to maintain their dental hygiene after they leave the practice.
It's also about the team.
Registered dental hygienists are an important part of the practice they work in. As an RDH, you'll work with the front staff, dental assistants, other hygienists and the dentist. The success of the practice is your success, so adopting a team-player attitude is important. If you really enjoy working with others and you're in the middle of an RDH vs DDS dilemma, dental hygiene might be the better option for you.
2. Becoming a traveling dental hygienist doesn't work for anyone
Each state has its own requirements for licensed oral healthcare professionals. That's why it's important to decide where you want to work before beginning the licensing process.
Keep in mind that you're not limited to just one state; if you want to work as a traveling dental hygienist, you may need more than one license. In some states, licensure by credentials or reciprocity agreements make working in more than one state easier.
Traveling dental hygienists enjoy many fantastic advantages that regular full-time employees miss out on. Being able to work in many practices and improve their skills, learning how to work with different types of patients from across the country and the ability to move on whenever they're ready are just some of the benefits of being an independent contractor.
Some RDHs can take on more responsibility than others.
States make their own laws regarding what a hygienist can and can't do. In some places, hygienists can own their own practices and treat patients without the direct supervision of a dentist. In others, RDHs can only perform clinical tasks under the orders and supervision of a doctor of dental surgery. If you hope to work independently, this is important to keep in mind.
Where you work determines your salary (and how hard it is to get a job as RDH).
Although the job outlook is good for dental hygienists, the market varies from state to state. Some states have more openings than hygienists. In others, the opposite is true. It may be more difficult to find employment in saturated areas, such as locations near hygienist training programs.
Salary also depends on location. For example, dental hygienists earn much more per hour in Washington DC than they do in Alabama. It's important to look at the job market before deciding where to work.
3. Not all dental hygiene careers are full time.
Many people start out with the goal of landing a permanent, full-time job. But the job market is rapidly changing in response to social and economic pressures. Today's dental careers often look different from the traditional nine to five.
You may not be able to get a full-time position.
Dentistry has always made use of temporary and part-time workers, but a growing number of dental practices are choosing to employ RDHs as they are needed rather than on a permanent basis. That often means hiring part-time workers for busy times. It also means filling gaps with temporary workers or labeling positions as temp to hire.
Here's why you may not want a single full-time job.
In recent years, workers in many industries have started working for themselves, putting together full-time work schedules from multiple temporary and part-time jobs. For some, this is a response to the job market. Others simply like freelance-style work better because of its flexibility. RDHs who put together their own schedules can set their own hourly rates and decide when and where to work.
4. Your best bet may be to work for yourself.
The promise of finding work may attract the newly licensed RDH to an RDH temp agency. While it's tempting to sign on with a dental hygienist temp agency, that may not be the best move. Placement agencies often don't have the best interest of the worker in mind. Dental professionals who work for agencies have little to no say in where and when they work, and high fees for dental practices mean dental hygienists get paid less.
For RDHs who want to travel or decide their own work locations, it's better to take matters into their own hands. If you're willing to be your own boss and build your brand, you can be competitive as an RDH. The best approach to this is using Cloud Dentistry. The cloud-based job platform makes it easy for dental hygienists to find the right jobs for them.
When considering whether to become an RDH, consider whether you would enjoy being an entrepreneur. While working in a permanent job or working for a temp agency are options, you may be able to earn more and get more flexibility by putting together a schedule of part-time, temporary jobs.
5. Dental hygiene can be repetitive, both physically and mentally.
Dental hygiene often results in physical strain due to its repetitive nature. Common physical complaints of dental hygienists include back, neck, shoulder, hip and wrist pain.
Ergonomic products and practices can help with the physical issues. On the product side, dental hygienists may have to purchase their own supplies such as gloves, masks and loupes. In some cases, hygienists even purchase larger items such as chairs.
A dental hygienist spends considerable time leaning over the dentist chair, with their neck and arms in awkward positions while examining patients' gums and teeth. Whereas a dental assistant spends more time preparing the materials needed by the hygienist and dentist and settling in patients before their treatment begins. If you're struggling over RDH vs RDA and you're concerned about physical exertion, a registered dental assistant role might be more suitable.
It's also important to note that in a clinical setting, both dental assistant and dental hygiene work is extremely repetitive. There is little opportunity for variety if you allow your career to stagnate.
However, some hygienists pursue expanded functions to keep their minds sharp and their jobs engaging. If you're registered with a dental association such as those listed on the American Academy of Pediatric Dentistry's site, you may get free or discounted continuing education materials. There's also the possibility of nonclinical work such as education, writing and consulting.
While work like scaling and polishing is the same day in and day out, there are ways to keep things interesting.
6. Dental hygiene jobs are not easy to find
If you're considering dental hygiene jobs as a career change, it's important you understand that the dental industry isn't something you can quickly breeze into. To become an RDH, you need to complete a dental hygienist program for an associate degree. There are several different ways to do this, but even the quickest option will take you two years of full-time study, assuming you've already taken the recommended classes in highschool and college.
When weighing up the pros and cons of getting a job as a dental hygienist, the time it takes to study and achieve the required qualifications is something you really need to consider. If you're fresh out of college, are you willing to commit to another two years of full-time study to get your dream job?
Or if you're considering dental hygiene as a career change, do you have the resources to study full-time for two years? If not, will you be happy studying part-time for up to four years to become an RDH?
If you are determined to start a career in dental hygiene and the workload isn't off-putting, you'll be glad to know your dental hygienist degree can open up many doors for you beyond dental hygiene. As an RDH, you can open up a dental practice and run your own business or continue with your education and get involved in research or teaching.
Thinking of becoming a dental hygienist?
It's important to carefully consider a career in dental hygiene. It's not for everyone, but if you decide that it's right for you, there are many rewards. It means a lot to know you've helped someone regain their confidence, improve their health or avoid disaster. Career-wise, it's a flexible option with the potential for growth.