The traveling dental hygienist is here to stay
What are the advantages of traveling as a dental professional? Freedom, set your own schedule and be your own brand. Discover why and how.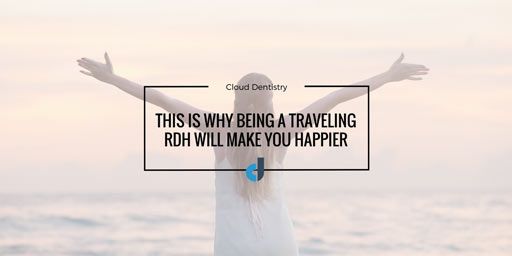 People outside of dentistry are often surprised to learn that many dental professionals don't have full time, permanent jobs. But registered dental hygienists (RDHs) and dental assistants know the truth. Permanent positions in dental hygiene and dental assisting aren't always available, and many dental professionals aren't interested in staying in one place. Whether by necessity or by choice, RDHs have pieced together work schedules through dental temp agencies for decades.
But the days of the dental temp agency are quickly running out. Dental staffing has changed massively in response to transitions in the economy, with both dental practices and dental professionals changing the way they approach employment.
Looking for traveling dental hygienist jobs?
Dental practice owners want to improve efficiency while meeting demand. For many dental practices, this means skipping the job placement agency. Dental practices are now hiring their temporary workers through an ultra-efficient, online platform.
Dental hygienists and dental assistants want to maximize earnings and job satisfaction. For some dental hygienists, this means treating the job as a business and traveling to two or more practices. They're signing on with a cloud-based job-matching platform that makes it all possible.
If you're an RDH or a dental assistant, adapting to the times is crucial for your career. Becoming a traveling dental professional will help you keep up with the competition and get the most from your job. Working as a traveling RDH or traveling dental assistant is a great way to take part in the trend and enjoy flexible work that pays well.
What does traveling mean?
Nurses have always traveled, going where they were needed. Now RDHs, dental assistants, dental nurses and dental auxiliary such as front staff are doing the same. In general, traveling means working at several different practices. It can mean visiting several practices over the course of a month, a week or even a single day.
For some, it means working in different cities in the USA. Some even work in multiple states. This is possible for dental hygienists who are licensed in more than one state. Some states have reciprocity agreements, so a single license may be all you need to work across state lines. Others, like Texas, have licensure by credentials. Obtaining a license in states that allow licensure by credentials is fairly simple. Working in multiple states is entirely possible. For some traveling dental professionals, it's the norm.
In short, being a traveling RDH is all about putting together a work schedule (and a travel schedule) that suits your lifestyle and your needs.
What are the advantages of traveling as a dental professional?
Dental hygienists and assistants often choose to travel among several practices. There are many pros and cons of being a dental hygienist, some of the cons include that the work can be monotonous. Becoming a traveling hygienist can be less monotonous and more interesting than staying in one place. Apart from keeping boredom at bay, the biggest draw is probably flexibility in scheduling. Traveling dental hygienists can build schedules around family commitments or even permanent jobs.
Traveling can also provide a higher income than working in a single position. Dental hygienists are in greater demand in some areas than they are in others. As a result, pay rates vary by locale. Dental professionals who need to supplement their income can take on more work at higher rates if they expand the territory they cover.
By selecting the practices they work for, optimizing their schedules and setting their own rates, dental professionals can fill out their schedules with lucrative work.
Who hires traveling dental hygienists and assistants?
Dental practices have every reason to hire traveling dental hygienists and assistants. In today's fast-paced world, it's important for dental practices to cater to their patients' needs as much as possible. That means having the right staff on hand. Practices are also more concerned with efficiency than ever before, so many are interested in hiring part-time or temporary workers over full-time, permanent employees.
Dental practices need all kinds of staff to assist the dental operator. From extra helpers for the front staff to RDHs to specialty staff like alveolar consultants and dental therapists, today's dental practices are bringing everyone they need into their offices. Traveling dental hygienists are often an important part of a dental practice, assisting the practice with its daily workload and helping patients improve their oral health.
How can an RDH become a traveling RDH?
Some RDHs get started with traveling by registering with a dental staffing agency. It's a way to get temp positions in different parts of town or in different cities. However, to take full advantage of the traveling concept, RDHs can take their scheduling into their own hands.
A free profile with Cloud Dentistry allows dental hygienists to manage their own schedules. Unlike dental hygiene placement agencies, Cloud Dentistry is a traveling RDH's helping hand, making it possible for traveling RDHs to set their own rates and their own availability. They can have direct contact with hiring practices and choose which jobs to accept and which to reject. That's much more control than an RDH has with a placement agency or a dental assistant temp agency.
Dental hygiene lends itself to traveling.
Most traveling dental hygienists chose dental hygiene because they are natural helpers who love caring for patients. They're drawn to the job because it entails assisting others in improving their health. In today's social and economic climate, that assistance is needed all over the world.
Dental hygienists have some advantages when it comes to traveling. For those who want to maximize profits and control their own careers, traveling provides the opportunity to do both. The jobs RDHs take while traveling can supplement existing income or add up to a full-time schedule. It's a great way to increase earnings while staying true to the career they love.
Today's technology is making it even easier to be a traveling dental hygienist. The cloud-based services offered by Cloud Dentistry help RDHs advertise their services and land the jobs they want. The cost and time savings, coupled with the many features the platform offers, help hygienists work for themselves. The situation is ideal for travel, whether it's among counties, cities or even states.