33 Practical Tips to Improve Your Dental Practice
Your dental practice will become much more profitable when you follow Cloud Dentistry's recipe for success.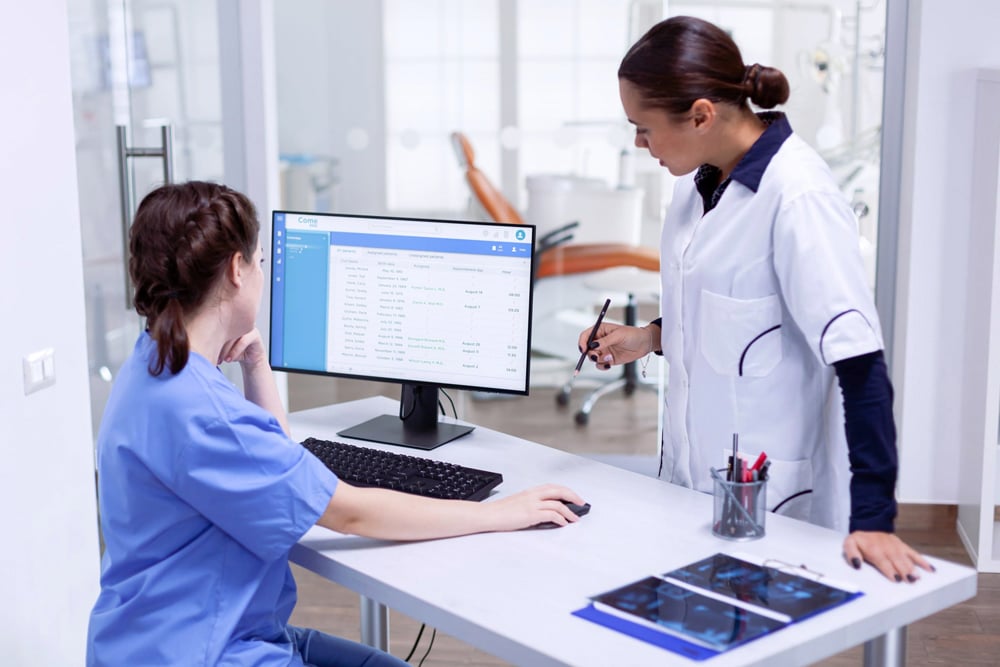 The dental industry has never been more demanding than it is currently and much of that demand falls to the dental practice owners. More than ever before, dental practice owners need to find practical solutions for the many challenges they face. To do this, they need to utilize the best skills and strategies to not only survive in the world of business, but to thrive.
Here are 33 practical suggestions to help you avoid management-related pitfalls and make things easy for you, your dental staff, and your patients.
1. Set Concrete Goals
Many dental practices, especially the less established ones, are focused on their day-to-day tasks of keeping patients happy, minding their finances, managing office inventory, and more. However, sometimes they let that daily grind eclipse their long-term goals.
The best way to make sure you focus on the big picture is to set solid, quantifiable goals and review them regularly to ensure that you are going in the right direction. For instance, your goals may include generating more leads and referrals, improving efficiency, growing profitability, or some other measures of success. Perhaps, you want to open a new branch—that is another goal you can track.
2. Find Competent Employees
So much of your dental practice's efficiency and patient satisfaction depends on your employees. With your staff acting as the face of your dental practice, it's crucial that you have the right team on-board. It can take you years to build a name and seconds to destroy one; thus, it is advisable to have measures in place to protect the interest of your practice.
Fortunately, web-based hiring platforms like Cloud Dentistry have made the whole staffing process a lot easier than in years past. Practice owners now have direct access to a huge pool of experienced and peer-reviewed dental professionals. All it takes is to visit their app or website and book the most qualified and suitable candidate for an interview. Gone are the days when dental practice owners had to rely on temp agencies and job boards to get qualified candidates.
3. Have the Right Number of Employees
Besides hiring competent staff, you have to get the right number of people to work in your clinic. Having just the right number of staff guarantees that you:
Increase the efficiency of your processes
Save up on unnecessary costs of redundant staff
Streamline your processes
However, ensuring you are not under- or overstaffed is not easy. Striking that balance may appear almost impossible. What happens when one or more employees call in sick? Is it possible to cover for the sudden absence? How do you cater to an unexpected increase in patients' visits?
Again, on-demand hiring platforms come in handy. You can fill these positions in just a few minutes, with minimal effort. Just search through their vast database, and hire dental staff who are ready to work during these unexpected and peak periods. Basically, you hire when there is a need, ensuring just the right number of employees in your practice.
4. Confirm Patient Appointments
Patients who cancel or just don't show up for appointments cause practices to incur unnecessary costs. As a dental practice owner, you should find ways to lower your practice's no-show rates. Most importantly, aim at confirming appointments ahead so that you can make the necessary adjustments and avert the losses that are associated with no-shows.
Tips to reduce patient no-shows may include:
Send appointment reminders through patients' preferred communication method.
Avoid splitting treatments and offer same-day appointments
If a certain patient often misses appointments, consider double-booking the time slot in anticipation of him/her not coming.
5. Stay Updated on the Latest Dental Tools and Equipment
If you want your dental practice to grow, you should ensure that it's equipped with modern equipment and tools. After all, equipping your practice with modern technology helps in attracting top talent!
Make sure you have the latest X-ray machines, 3D imaging system, intraoral cameras, comfortable dental patient chairs, sterilization equipment, dental lasers, operatory cabinetry, etc. Depending on the kind of dental practice you run, and the nature of services and treatments you provide, you might opt to invest in even more advanced tools.
6. Offer Patients a Wide Selection of Dental Services
The dental industry is always evolving. New procedures are being introduced more frequently than ever before. Many of these procedures not only help to boost profitability for practices, but also appeal to patients since they save time and minimize discomfort.
Practice owners can cater to patients' desires by keeping up with the latest dental innovations and treatments. From gum surgery, scaling, and root planing to performing implants and simple extractions, make sure you do not subject your patients to outdated, messy, and painful treatment methods. Whether it involves attending a seminar to learn new techniques or investing in high-tech equipment, expanding your clinic's range of services can help dentists draw a new pool of patients.
7. Reduce Paperwork and Fill in the Gaps
Paperwork is among the costliest, protracted components of dental practice management. For instance, on an initial visit, a patient completes new patient forms, including medical history, patient information, HIPAA forms, financial, and treatment consent forms. On return, the same patient usually signs more forms, including medical history updates and appointment forms. Lastly, the patient chart will also contain progress notes, administrative notes, and other hand-written paperwork.
However, with a paperless dental office, the redundant and time-consuming paper stage is bypassed entirely. For instance, patients can sign and complete forms available on your website from the comfort of their homes. The information is sent to the dentist's office immediately, where the staff can review and upload this data into the practice management system with just a few clicks.
When you analyze the costs and benefits properly, a paperless office is the most economical and efficient way to run a dental practice today.
8. Lower Your HIPAA Risks
You've been through the critical process of ensuring your practice is HIPAA compliance, but this shouldn't be viewed as a one-time exercise. Enforcement of HIPAA is increasing, and legal doors have been opened to allow action over security and privacy failures.
To minimize your risk, frequently review your HIPAA compliance efforts procedures and efforts with everybody who has access to patient information. In other words, ensure that all the technology you incorporate into your practice is HIPAA compliant.
9. Reduce Overtime
Overtime pay is among the most common factors that throw any dental practice's budget out of balance. Normally, these overtimes are pointless and even unproductive for your staff. Thus, exploring other alternatives is advisable.
If your dental clinic is not optimized for employee's productivity and presents excessive distractions, it will cause inconvenient delays, which eventually lead to costly overtime. Think of ways to fully-utilize each shift with scheduling, strategic task assignment, and hiring staff on-demand to reduce the need for overtime.
10. Help Patients Fully Utilize Dental Insurance
Dealing with dental insurance can be overwhelming. However, in today's competitive environment, practice owners can't afford to avoid this work. Patients want practices to be responsible for their treatment, as well as insurance coverage. In modern dentistry, if you do not provide these services, your competitors will.
Go the extra mile and help your patients utilize their insurance benefits fully. Review the benefit coverage during each patient's visit and submit their claims to help them get the proper compensation. For many people, a lot of money goes to waste every year through insurance battles. Thus, keeping them abreast of the remaining benefits and other relevant deadlines is a crucial responsibility.
11. Delegate Prudently
Delegating tasks and responsibilities not only gives you time to focus on higher-level tasks, but also improves productivity, efficiency, and time management. All of these are vital to a practice's bottom line. It also helps reduce turnover rates and supply practices with a group of highly-competent professionals who are good at getting the job done right.
Practice owners need to understand that, although delegation is critical to the success of any practice, it is not an excuse to push off unsavory responsibilities to others. What's more, dental practice owners should not micro-manage delegated tasks.
12. Outsource Where Necessary
There are many areas of dental practice management that can benefit from outsourcing. Here, we are not talking of the professionals such as dental assistants, hygienists, or receptionists, but instead, think of services such as laundry, cleaning, and security.
Employing in-house cleaners, for instance, is not only expensive to maintain, but also requires extra investments in terms of space and equipment. Save up on these types of services by outsourcing the job to cleaning companies. This way, you can focus on the core aspects of dental practice management and not if your office is dusted.
13. Promote and Market Your Dental Practice
Marketing and promoting your practice is as important as fixing teeth. If you wish to see more people booking appointments, you must get the word out there.
Luckily, there are numerous several available to you, regardless of your budget. For example, if you have a limited budget, concentrate on online marketing techniques. If you have a flexible budget, you can either opt for traditional advertising such as radio, TV, or print ads. Or combine both digital and traditional marketing for maximum exposure.
Just ensure that people are seeing and talking about your practice. The more publicity and exposure you get, the more the appointment booking rates.
14. Build Your Brand
Are branding and marketing the same thing? Many lump the two together, but they usually represent different things. Marketing is how you build awareness, while branding is who you are.
The majority of the dentists currently practicing across the country are in direct competition with you. So, how do you position your practice as unique? Figure out what separates you from them. Determine the values and morals you want your practice to represent. A private dental clinic finds patients based on a trust system. One way to build trust easily is by branding yourself.
Come up with a logo, which is identifiable. Make your brand recognizable through everything you do from your services, marketing, to how your receptionist answers the phone.
15. Improve Patient Referrals
When it comes to growing a dental patient base, nothing surpasses a word-of-mouth referral. A good recommendation from a family member, colleague, friend, or even from the yelp website can be the reason why patients will visit your clinic and not one of your competitors.
But wait, patients are busy with their personal lives and are not in the job of supporting your business. To encourage them to talk about your practice, you will need to be proactive in requesting for referrals. This can be accomplished by:
You could tuck cards into your office mailings
Hand out referral cards in the waiting lounge
Provide patients with links to online review sites
Offer a referral bonus program.
Whichever method you choose, remember to follow up and follow through!
16. Automate Where Applicable
Web-based appointments considerably increase efficiency in practices on many fronts; including wait times and no-show rates, as well as helping reduce staff labor, among others.
Usually, this is just a small area where automation can help curtail many of the unproductive and time-consuming aspects of dental practice management. Explore other lengthy processes in your management process, which can also gain from automation, such as billing and patient surveys, to help improve your practice.
17. Get Organized
Dental practice owners juggle a lot of tasks, from personal issues to budget planning and payroll. Without a clear strategy to remain organized, you might get lost in the minutia, eventually stressing yourself out and affecting the entire office's productivity.
An ideal way to stay organized is to have a to-do list every day. As you accomplish each task, check it off your list. This ensures that you are not leaving out anything important. Remember, also, this is an area that can be automated.
18. Empower Your Dental Staff
Employees should always be made to feel connected to the growth and success of the dental practice. Even if they are not equal partners, being recognized as a primary component is a point of pride and a valuable resume item for the future. It does wonders for employee morale and motivation.
19. Be the Example
As a leader or dental practice owner, you should set an example, especially in terms of your behavior. For instance, if you lose your temper quickly, your team members will likely find it difficult keeping their anger in check. If you show up late, others will be less punctual. Try to be an ideal boss or colleague, especially in front of your employees.
20. Be Consistent
The most fundamental principle in successfully managing a dental clinic successfully is to be consistent in your practices. For instance, if you are rewarding exemplary behavior, ensure you are doing it every time such deeds are performed. Equally, if you are discouraging bad behaviors, ensure you refute them every time they arise, regardless of who is involved. Treating your dental staff equally, lets them know they can fully trust you.
21. Hold Regular Staff Meetings
Meet with your employees every morning to review the needs of patients scheduled for appointments that day. In subsequent meetings, draw attention to any patient issues that took place and come up with ideas on how to prevent those issues from occurring again. These meetings need not to last long — even a quick huddle can serve the purpose—but they can go a long way towards boosting productivity.
22. Always Equip Employees to Adapt to Change
Change is inevitable, particularly when you are in a dynamic industry like dentistry. Yet some employees act in a frenzy whenever a change takes place in the workplace. The secret to handling change successfully is adopting a calm and steady mindset which everybody in your team can embrace and move forward.
After all, if you and your staff keep on resisting change, you won't be in a good position to benefit from the rapidly growing dental market. Your competitors will always be a step ahead.
23. Eliminate Waste
These days, many businesses are turning to methodologies and processes that reduce waste of resources. Dental practices should use the same approach.
You can start eliminating waste by asking yourself a few questions. Is every process in my practice necessary? Do I utilize the available resources fully? Is my office space right for my needs? Are my collection and billing practices effective? Answer these questions honestly, and start from there.
24. Get Help When Needed
The business side of dentistry is not the strength of every provider. If analyzing processes, managing staff, or maximizing revenue is something you are not good at, it is advisable to seek help. In the same manner, your patients turn to you for their dental health; it makes sense to involve experts who can help boost the well-being of your practice.
25. Network As Much As Possible
By networking with experts, business owners, and other entrepreneurs, you can learn a thing or two which you can incorporate into your practice. Through networking, you can identify business best practices and new trends. More so, joining relevant forums, business associations, and business magazines can be an excellent way to acquire new leads.
26. Focus on Accuracy, Clarity, and Thoroughness
How you communicate with your staff can dictate your eventual success. When relaying instructions, doling out practice updates, or even recapping meetings, strive for accuracy, clarity, and thoroughness of your communication. May it be via a phone call or email, make sure your message is always understandable. This is the best way to prevent miscommunication and keep your dental team on the same page.
27. Capitalize on Your Working Hours
Who are your target clients? Ask yourself questions such as: "Are they also at their workplace during my working hours?" and "Are my working hours convenient for them?"
Consider changing your office hours to accommodate your patients. For instance, do not open your clinic doors only from 9 a.m. to 5 p.m., but also think of targeting the evening shift patients who visit from 5 to 7 p.m.
There are enough on-demand dental professionals who are willing to work during these peak hours. Accommodating this kind of schedule shouldn't be a problem.
28. Be Creative
Creativity is not only an attribute you are born with—it's also a skill, which can be gained and improved upon. Always look for tactics to improve your practice and to make it outshine the competition. Appreciate that you are not 100 percent perfect in practice management and be open to fresh ideas and new approaches.
29. Know Your Competitors
Every dental practice has competitors. Assess them thoroughly to establish their strengths and weaknesses. This helps you improve your services to fit what they fail to meet. Also, this might help you in pricing your dental services. However, avoid breaking the law, especially when it comes to spying as some actions can only bring you legal problems.
30. Keep Records
Any practice, big or small, should maintain accurate records. Why?
Records help gauge the performance and the direction your practice is taking.
Record keeping may be required as part of compliance with the law. They show proof of compliance with regulatory bodies concerned.
Records help evaluate your practice's potential in case you think of selling, expanding, or acquiring a loan.
You can use your records as proof in case of lawsuits against your practice.
Your records should be accurate and well organized for easier analysis.
31. Never Forget Your Budget
A budget is a vital tool for outlining your projected expenses, planning for those unavoidable rainy days, and remaining on track of your financial health. Regardless of how busy things get, you will always need to be keen on your practice's financial status to ensure you are in a stable position.
Remember, as your practice grows, you will want to re-examine your budget and make any relevant adjustments. Regular review of your budgetary costs and expenses is crucial in staying on track.
32. Separate Business and Personal Finance
Mixing business proceeds with your personal finances is usually a recipe for disastrous tax headaches and losses. Always separate these two. Keeping your practice's money separate will make the computation of profitability easier and effortless. For example, have a dedicated business credit card or bank account to avoid any mix-up.
33.

Pay Your Bills and Taxes on Time

This is a common piece of advice, but it is advisable to pay what you owe—particularly when dealing with the IRS. The IRS can impose ruthless penalties and even come after your personal assets if you do not remit payroll taxes on time.

It is also recommendable to pay your debts promptly. If you get a bad reputation from your creditors, you will find it tricky to build business relations in the future.
Conclusion
Dental practice management entails wearing many hats and keeping an unwavering focus on different tasks. We hope the above 33 practice management tips will help you remain focused on the most critical aspects of your practice and keep you on the road to success.