Is Dentistry A Good Career For The Future?
The future is bright for many roles in the dental industry, as it's one of the jobs that cannot be replaced by robots or Artificial Intelligence.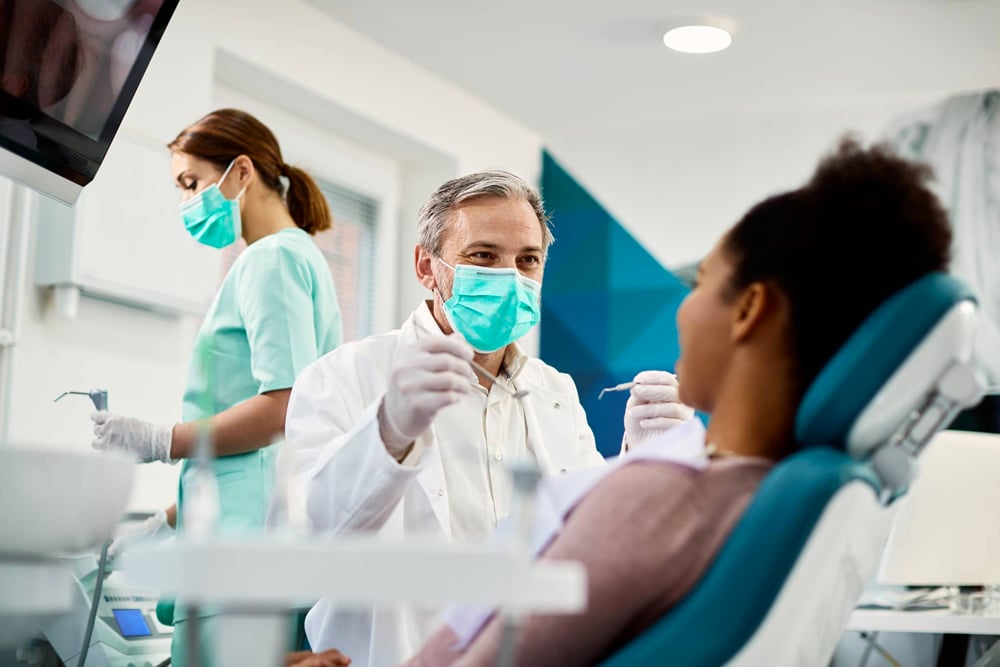 Choosing a career is one of the most important things you do in life. Whether you make the big decision in high school, college or after you've been working for several years, the selection you make will have a considerable effect on your life for years to come.
Dentistry careers have been featured in the 100 best jobs in the U.S. for several consecutive years. But are the dentist, dental hygienist and dental assistant job outlooks as bright as they seem? To help you decide if a career in dentistry is right for you, we're diving into professional expectations and predictions.
Dental Job Demand is High
Between 2018 and 2028, dental assistant job demand is expected to grow by 11 percent, which is significantly higher than the average job demand growth. Dental hygienist job demand is also predicted to grow by 11 percent, while dentistry job demand is predicted to grow by 7 percent.
When you really think about it, these high statistics aren't surprising. Dentistry is one of the few careers which will always be called for. As we learn more about the importance of taking care of our teeth and gums, the need for outstanding dentists, dental hygienists, and dental assistants will continue to grow.
Take into consideration an aging population that will require more long-term dental care over the next few decades and the outlook for dentistry careers is extremely bright.
Everyone Needs Help
Patients usually consider the dentist to be the most important person in a dental practice. But if you've ever worked as a dental hygienist or dental assistant, you'll know this simply isn't true. Dental hygienists and dental assistants both play an incredibly important role in patients' mental wellbeing and dental care.
Dental hygienists clean and protect patients' teeth, take and develop mouth x-rays, make initial diagnoses and educate patients on oral care. Dental assistants are in charge of making sure all the appropriate tools for a procedure are properly prepared, pouring dental impressions, helping patients feel at ease and sometimes scheduling appointments.
If there weren't dental professionals available to carry out these tasks, the dentist would waste huge parts of their day performing duties that others are much better suited to. By having the skills and expertise necessary for these responsibilities, dental hygienists and dental assistants are able to free up the dentist's time so they can take care of patients. This is just one of the reasons dental hygienist and dental assistant job outlooks are so bright.
Dentistry Can't Be Automated
Unlike customer service, manufacturing, and delivery jobs, which all have the potential to be automated within the next decade, people who work in dentistry can't be replaced by computer programs or advanced robots.
The only thing you'll ever have to worry about being replaced by is a better dental professional. But keep up-to-date with the latest best practices, strive to learn all you can about industry developments, and give your job all you've got every day and you won't even have to think about someone taking your place.
It's Easy To Find Work
Because RDA job demand has been high for a number of years, you might think the market will soon be flooded with recently-graduated dental professionals seeking lucrative roles. Fortunately, this isn't the case at all. Dentistry is one of the most stable careers there is, with one of the lowest unemployment rates in the country.
Instead of scouring through dental career job boards and dental temp agencies, you can find work as a dental professional quickly, easily, and without any hassle by choosing a modern cloud-based matching platform like Cloud Dentistry. You can sign up for free, create a profile to showcase your skills and begin searching for dentist, dental hygienist and dental assistant jobs in your area straight away.
With in-app, peer-to-peer messaging, you can chat directly with potential employers and iron out all the details without anyone else getting involved. This little perk means you could literally be hired within one hour and start work as early as the very next morning.
Keep Learning New Skills
With new advancements in technology and modern-day research, dentistry is constantly on the move. As long as you move with it and regularly attend lectures, workshops, and conferences related to the industry, you'll transform yourself into an incredibly valuable asset and will be able to charge what you're truly worth without worrying about someone younger and less experienced undercutting you.
Is Dentistry a Good Career for the Future?
There's no doubt about it—dentistry is a fantastic career for the future. Just as people will always need doctors, nurses and medical assistants to take care of their bodies, so too will people always need dentists, dental hygienists, and dental assistants to take care of their oral health. If you're looking for an interesting, exciting career that challenges you on a daily basis and lets you work closely with people who genuinely need your help, a job in dentistry will be perfect for you.