What Can Dentists Do To Help Make Dentistry More Affordable?
Affordable healthcare has been a trending topic for many years and there are ways to help reduce the costs.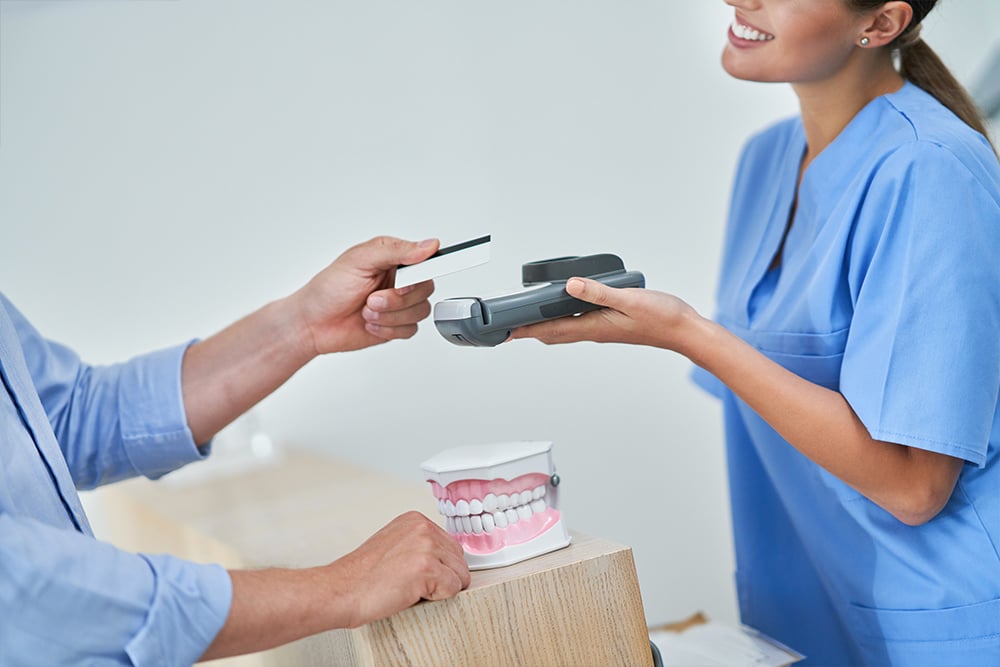 One question patients have is whether dental care can ever be affordable or accessible to everyone. Unfortunately, market trends have led to a rise in dental practice prices. Though good dental work is valuable and should be priced accordingly, there are some ways to make it more affordable to a greater number of patients.
Here's How To Make Dental Care More Affordable
1. Offer Preventative Care
One of the ways practices can minimize dental care costs is by educating people on the importance of oral disease prevention. Preventive dentistry focuses on ongoing hygiene procedures to prevent potential dental illnesses. When dental problems aren't detected early enough, they can exacerbate larger issues like root canal therapy and advanced periodontitis.
Some of these procedures cost thousands of dollars; but, by offering preventive dentistry, dentists can safeguard patients from avoidable exorbitant dental costs.
2. Accept as Many Dental Insurance Plans as Possible
An affordable dental insurance policy can significantly reduce patients' out-of-pocket dental care expenses. Dental practices should partner with as many insurance providers as possible to ease the payment process. They can also go a step further and file claims on behalf of the patients, and be available to answer any insurance-related queries. In short, every dental practice goal should be to ensure that all patients receive the maximum coverage possible when receiving treatment.
3. Offer Phased Treatment Options
Where possible, dentists can complete treatment in phases. This is quite helpful as most patients can afford treatment in smaller increments. Again, this reduces the need for patients to pay unnecessary interest and origination fees required by financial institutions.
For instance, a patient needs $18,000 worth of treatment though he can only afford $9,000 at that particular time. The dentist can think of ways to phase the treatment while still maintaining a functionally and biologically stable patient. The patient, on the other hand, can cover future costs as treatment goes on.
4. Allow Flexible Spending Arrangements/Accounts (FSA)
FSA is an account where individuals save money so that they can use it to cater to specific out-of-pocket health care expenses. Some employers do it on behalf of their employees, though this is not mandatory.
As a way of making dental care affordable, dentists should allow the use of these pre-tax savings to fund emergency treatments, as well as preventative oral services such as oral exams or routine teeth cleanings.
5. Present Interest-Free Dental Plans
Dentists can offer flexible, interest-free payment plans as a way of making dental care affordable. For those patients who don't have a dental insurance policy, this option can come in handy. Similarly, patients who have an insurance plan can exploit this option to pay for those procedures that are partially covered by their policy.
Given that some of these dental plans come with no interest, patients have no reason to worry about the cost of treatment, increasing over time.
6. Participate in Charity Events
Although many dentists operate for-profit businesses, occasionally, they can find time to help the underinsured in their neighborhood. The Dental Group Practice Association (DGPA) has participated in initiatives for some time now. Collectively, DGPA members contribute millions of dollars annually to support free dental care to patients nationwide. More so, they schedule free in-office weekend visits and operate mobile dental clinics, which have been very convenient economic-wise to many patients.
7. Grant Special Discounts
Dentists can offer periodic specials on specific procedures to persuade patients who have been postponing treatment to go ahead and get it done. Alternatively, to save money when collecting unpaid bills, dentists can offer discounts for payment made on time. For instance, patients who make same-day payment for procedures costing $1,000 can get a 5 percent discount.
Dental practices can also opt to offer discounts to select groups, such as veterans, students, seniors, persons with disability, etc.
8. Consider Offering Warranties
Only a few dentists in the U.S offer warranties. More should—at least for advanced restorative work such as crowns and bridges. Even in the cases where they can't provide written warranties, dentists should take it upon themselves to re-fix dental work that fails much sooner than anticipated.
9. Introduce More Dental Therapists in Practices
Some states have allowed dental therapists to practice. Dentists, therefore, in these states, can introduce dental therapists in their practices to help treat as many people as possible—and as cost-effectively as possible, too. According to a study carried out in Minnesota, expanded use of dental therapists in rural dental offices improves access to oral care—as visualized by state laws enacted in 2009—while keeping treatment costs down.
Therapists earn significantly less than their supervisors. That said, they handle a lot of routine duties so that dentists can concentrate on more complicated procedures. The fact that they can assume some of the dentist's roles, and they are a little less expensive, is enough to consider hiring more of them in dental practices.
10. Embrace Teledentistry
Thanks to teledentistry, patients now can exchange information about their dental health with dentists using real-time video communication.
The American Teledentistry Association (ATDA) believes that teledentistry is much more cost-effective than conventional in-office visits. For instance, staff used to manage patient information or schedule appointments can be shared between offices, which in turn, lowers staffing costs. Less overhead costs for dental practices translate to lower service fees for patients. Also, with Internet-enabled phones and apps becoming synonymous with our lives, teledentistry conforms to society's expectations—fast solutions and instant services. In short, teledentistry satisfies patients' demands for efficiency and convenience.
The combination of saved time, reduced costs, and increased convenience encourage patients residing even in the most remote areas to seek out dental services, affordably.
High Dental Costs Are A Challenge
The high cost of dental care continues to pose a considerable challenge to Americans and disproportionately impacts the financial and health security, especially for the low-income earners. The tips mentioned above can go a long way in ensuring that dental care services offered in various clinics and private practices are affordable and accessible to Americans.
For dental practices that have already implemented one or two of these programs, it is advisable to enlighten patients on how the programs work. Whether your practice is accepting savings plans, offering new patients specials, or in-house financing, pass this information to your patients early on. That way, it will serve the intended purpose—increase access to affordable dental care in your locality. Also, this will establish your dental office as one of the few facilities that are willing to go the extra mile to help cut dental health care costs in the country.