The Skills Necessary to be a Specialized Dental Assistant
All dental assistants need to possess the proper accreditations and skills to move forward in the field and in their careers.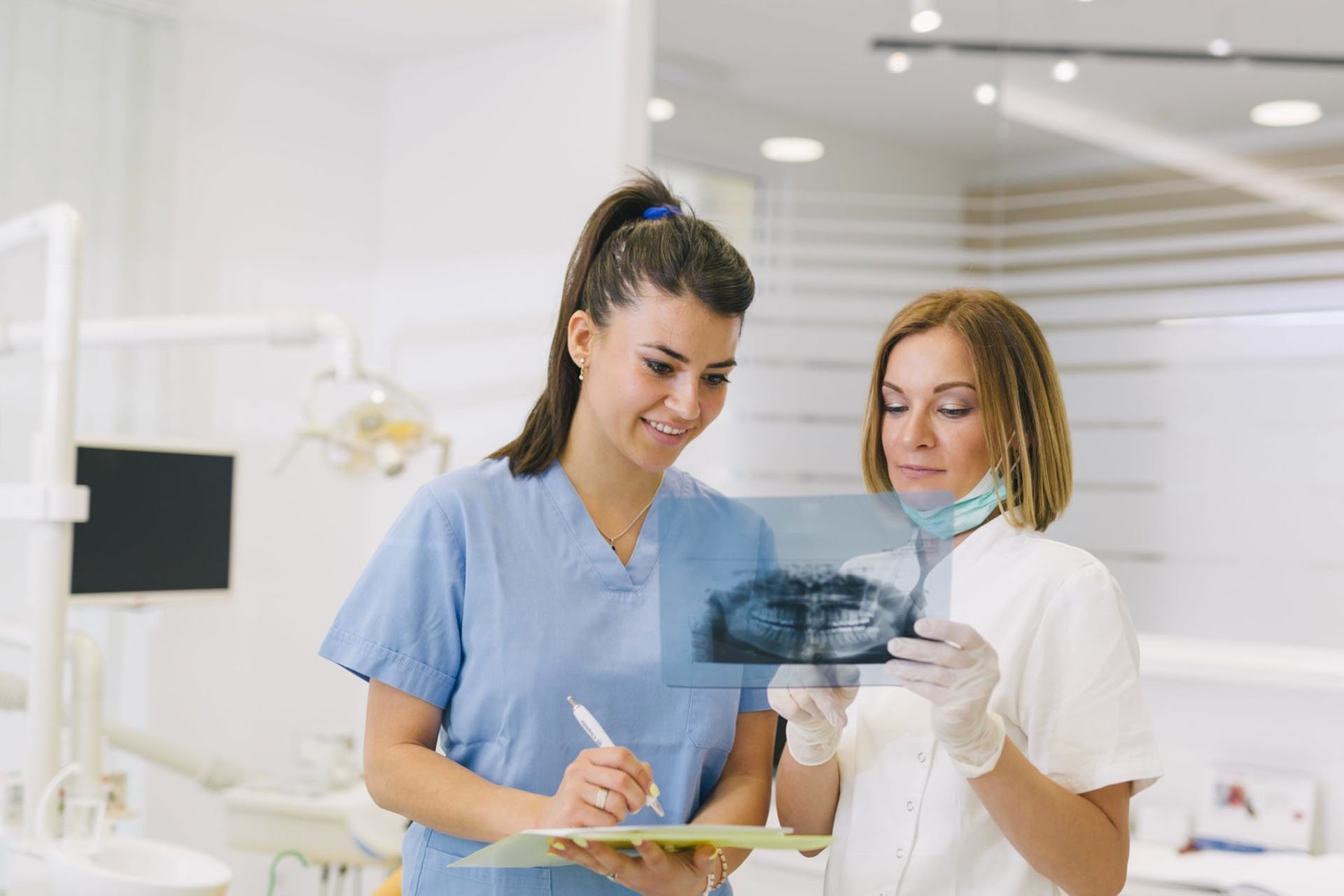 In a general dental practice, the dental assistant must have the necessary skills for the position, including using four-handed dentistry techniques. The term four-handed dentistry describes the seated dentist and the chair-side assistant working in harmony as an efficient team. On direct demand from the doctor, the assistant will pass the correct dental instruments and mix types of cement and impression materials while making sure the field of vision is kept clear for the dentist to see and to work.
The educationally-qualified assistant has many responsibilities, which are limited by regulations of the Dental Practice Act of the state in which the practice is located. Dentists who have their dental assistant perform tasks that they are not licensed to do can face stiff legal penalties and questions concerning their ethical behavior.
Not All States Require Formal Education for Dental Assistants
The education level of a dental assistant will vary from state to state. However, to be able to take radiographs, they have to be licensed by the state after completing formal training in radiation safety, image capture, and processing. After working on the job for a specified period, the dental assistant can take a proctored certification or licensing examination and must earn the required passing score.
In general, a person can become a dental assistant by attending an accredited (Commission on Dental Accreditation) dental assisting program that is approximately one academic year in length and is taken in a post-high school educational institute. It is important when choosing these schools that the program is accredited and prepares the students for employment at graduation. Many of these schools charge thousands of dollars and make no promises of employment after graduation. Some community colleges offer a more extensive and complete education that is about two years in length and supports the student's goal to be licensed at graduation.
Specialties Recognized by the ADA
A dental assistant with excellent acquired skills may take an interest in working in a specialist practice. The American Dental Association (ADA) recognizes nine specialties:
Dental Public Health
Endodontics
Oral and Maxillofacial Radiology
Oral and Maxillofacial Surgery
Oral Pathology
Orthodontics
Pediatric Dentistry
Periodontics
Prosthodontics
For dentists pursuing specialty training, depending on the type of dental specialty, additional education of another two to six years is required.
The dental assistant who wants to work for a specialist such as an orthodontic assistant or a surgical assistant will find that the basic skills are not enough to work in this type of practice, and that more training and skills must be developed. Often the pay for working in a specialist office is more than a general practice because of the advanced skills required.
Gain Autonomy as an Orthodontic Assistant by Skilling Up
The trained orthodontic assistant will find that greater autonomy is a feature of the position. Many "hands-on" skills are required for the job and working alone with the patient, though under the direct supervision of the dentist, is gratifying. Depending on the expanded function training and laws of the state, the orthodontic assistant enjoys a higher sense of accomplishment.
To become a qualified orthodontic assistant, the student would have to enroll in a specialized instruction program and then sit for the Dental Assisting National Boards in Orthodontic Assisting. The Dental Assistant National Board (DANB) awards the Certified Orthodontic Assistant (COA) to those passing the examinations.
Skills Required for Surgical Dental Assistants in an Oral and Maxillofacial Practice
The assistant must have advanced knowledge and skills in the following seven areas to be considered a surgical dental assistant in an oral and maxillofacial practice:
Patient health assessment and SOAP (subjective, objective, assessment, plan) clinical notes for proper documentation and being able to enter this information in the computer chart. Dental assistants must have good written language skills including spelling and dental terminology.


Usage of surgical instruments and preparing and maintaining a sterile field.


Surgical infection control, sepsis and sterilization procedures that meet high standards.


Assisting the surgeon in a surgical setting and knowledge of the processes and the steps to complete. Helping the patient in the recovery room and providing information for home care.


Understanding patients under anesthesia, in different states of consciousness and pain management.


Certified in advanced cardiac life support, renewed every two years.


Communication skills to talk to the patient and their family about informed consent for treatment and pre- and post-operative care. Patients must be informed of what they can or cannot eat or drink before surgery and personal home care after surgery.
For Dental Assistants Working in a Pediatric Dental Setting
Children need special care and compassion when it comes to dental treatment. Many pediatric dental practices are hectic and the dental assistant is required to be "hands-on" with children and their parents in a preventive role. Scared children will cry, bite, or scream, and the dental assistant must remain calm and caring.
Teaching the parents and the children about brushing, flossing, and proper diet is crucial. Most pediatric dental practices need a certified or licensed dental assistant who can legally perform coronal polishing, place preventive sealants and take preliminary impressions. It is important to pursue further education to be a valuable member of the pediatric team.
A pediatric dental assistant must enjoy, understand, and respect young children and adolescents to be happy in this environment. It is also common in pediatric practices to treat children and young adults with special needs that include physical and mental disorders.
Dental Assistants Must Always be Professional
Professionalism is challenging to define and means different things to different people, particularly employers. A "great attitude" is what many dentists say that they want in a dental assistant, assuming the necessary skills are present.
It is an attitude that is present in everything said and done by the dental assistant. Professionalism will differentiate those who want a job from those who wish to have a valuable career. Dental assisting is a challenging career and has no boundaries as to where it can take the person who seeks achievement.
Many dental assistants have gone on to become dental hygienists, dental office managers, dental supply representatives, and even dentists. Dental assisting can be a stable, challenging career for those who strive to learn and to succeed in this rewarding field.