Dental Staffing: A Guide to the Future with Cloud Dentistry
Discover the challenges, solutions, and innovations led by Cloud Dentistry that are reshaping dental staffing for a digital age.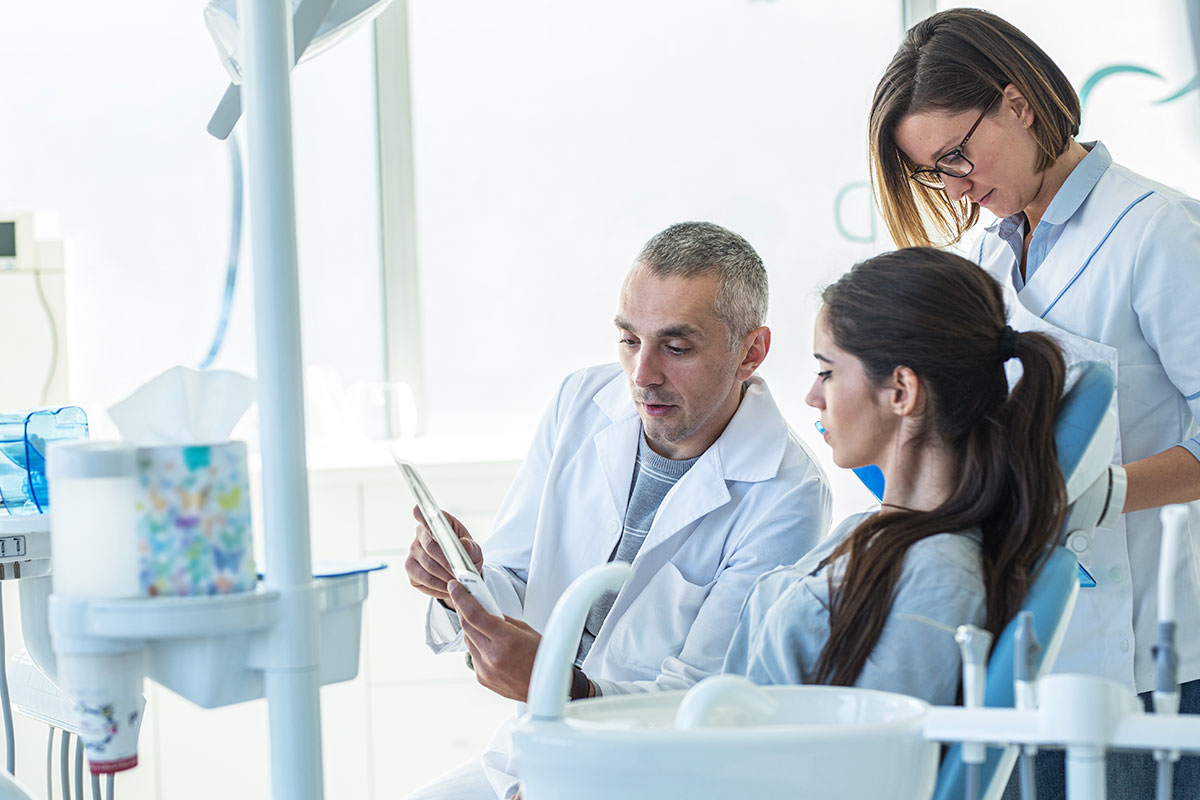 The digital age has redefined a host of sectors—and the dental industry is no different. As a dental practice owner or manager, the challenges of sourcing, hiring, and retaining skilled staff can be daunting. However, like a crown completes a smile, emerging technologies and platforms offer a gleaming solution. Dive into this comprehensive guide to unearth the nuances of today's dental staffing, spotlighting how Cloud Dentistry is brilliantly bridging gaps and setting the gold standard.
Dental Temp Agencies: What's Really Going On?
Talk to any dental practice owner, and you'll often hear the same story. They thought using traditional dental temp agencies would be an easy fix for their staffing problems. But, surprise, surprise, those agencies come with unexpected costs and headaches. From high fees to feeling like you're not in control, it's not always the solution it's cracked up to be.
Check out "The Hidden Costs of Dental Temp Agencies: The Cloud Dentistry Solution." We dive into the nitty-gritty and show how Cloud Dentistry is changing the game for the better.
So Long, Old-School Temp Agencies!
Remember when we relied on temp agencies for our staffing woes, and they'd often leave us with thinner wallets and more questions than answers about our next staff member? Thankfully, those times are fading. Now, thanks to the digital age, on-demand staffing platforms are stepping up.
Want the details? Dive into "Why On-Demand Staffing Platforms Are the Future of Dental Staffing" to see how they're making waves and how Cloud Dentistry is at the forefront of this shift.
The Dark Side of Old Temp Agencies
Your dental practice's success is rooted in quality care and a dependable team. But what happens when someone calls in sick or you're faced with a sudden staff shortage? Enter dental temp agencies, offering to swiftly fill those gaps. Sounds good, right? But, here's the catch: These agencies can sometimes come with unpredictable staff quality, a lack of control over who's sent your way, and potential inconsistencies in patient care.
Want the full lowdown? Check out "The Risks of Using Dental Temp Agencies: What You Need to Know." If you're looking for a hassle-free and more reliable alternative, Cloud Dentistry might just be your answer.
Re-evaluating Traditional Hiring Platforms
Indeed.com's recent switch-up, where employers are given a mere 72 hours to decline applications or face a fee, has ruffled more than a few feathers. With no grace period for busy dental offices without a round-the-clock HR team, charges can skyrocket quickly, especially when a post for roles like dental hygienist can attract a swarm of applicants overnight.
Get the full scoop and how it impacts your practice in "Indeed's Pricing Overhaul: A Challenge for Dental Practices." If you're feeling the pinch, Cloud Dentistry offers a transparent and flexible way to steer clear of these hurdles.
Tapping into the Power of Temporary & Contract Dental Staffing
The dental industry is in flux, with rising demands for services and not enough skilled hands to meet them. This has led to an intriguing shift: the rise of temporary and contract dental staffing. It's not just about plugging gaps during peak times—it's about flexibility in scheduling, significant cost savings, and having access to a wider pool of candidates with diverse skills. Plus, these temp arrangements come with reduced risks, as staffing agencies shoulder liability. There's a world of innovative staffing strategies out there that promise a blend of efficiency and excellence.
Delve into "The Latest Trends in Dental Staffing: Adapting to a Changing Landscape" to understand why this model is buzzing.
Simplifying Hiring and Firing with Proper Guidelines
Though a more nuanced part of the staffing equation, having a structured process for hiring and firing can significantly ease the operational strains of a dental practice. While it's a less-emphasized aspect, "How an Employee Handbook in Your Dental Office Makes Hiring and Firing Quick and Easy" provides valuable insights into streamlining these essential processes.
Crafting a Long-Lasting Dental Team
Sure, cutting-edge tech and comfy chairs are important—but the true heart of a top-notch dental practice is the dedicated professionals who make patients feel at home. Their knowledge, consistency, and commitment not only encourage patients to return but also streamline operations. Familiar faces represent trust, consistent care, and a testament to your practice's values.
But in the competitive world of dentistry, keeping these star players on your roster isn't just about offering the most money. Dive into "Building a Dental Team: Strategies for Long-Term Staff Retention" to grasp the depth of staff retention's importance and how platforms like Cloud Dentistry are game changers in helping you build a team that stands the test of time.
Tele-dentistry: The Digital Frontier in Dental Staffing
Welcome to tele-dentistry, where high-speed internet, advanced software, and digital innovation have reshaped the very meaning of a dental appointment. Now, geographic boundaries are fading, the concept of a dental office is evolving, and dental professionals can reach patients far and wide—all from the comfort of a virtual space. This is the reality we're living in, altering not just patient interactions but also how dental professionals operate.
In "Embracing Tele-dentistry: How Remote Work is Shaping Dental Staffing," we'll peel back the layers on how this digital shift is revolutionizing dental staffing. While Cloud Dentistry may not post remote or tele-dentistry jobs, we champion technologies that expand access to quality dental services. Dive in to see how tele-dentistry is molding the future of dental care and what it means for both the industry and its patients.
Navigating Dental Staffing in the Digital Age
Dental staffing is a landscape in flux. Traditional temp agencies bring their own set of challenges, while on-demand platforms and tele-dentistry usher in new horizons. Amidst these shifts, Cloud Dentistry isn't merely observing, we're actively pioneering tailored solutions for contemporary dental practices. Consider this guide your trusted compass, directing you to the best staffing avenues in our digital era.
---
Embrace the future with Cloud Dentistry! Join us and discover innovative solutions tailored for your practice's success in this digital era.