Career Paths in Dentistry For College Students
Explore the various career paths in dentistry and learn how Cloud Dentistry streamlines job search and networking for aspiring dental professionals.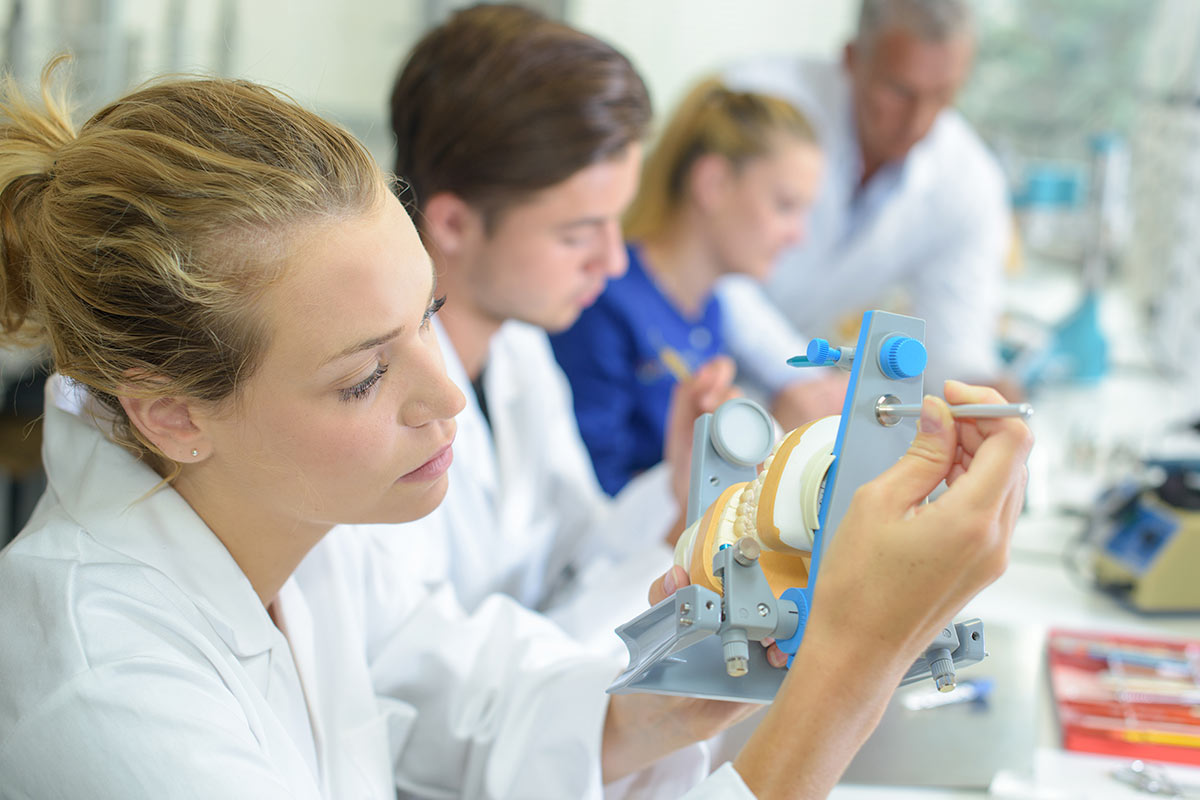 Hey future dental professionals! As you embark on a journey through the rewarding yet complex field of dentistry, it's imperative to have a nuanced understanding of the myriad career options that await you. Gone are the days when dentistry was confined to routine teeth cleaning and cavity fillings—today, the profession encompasses a multitude of specialized areas, each with its own set of challenges and opportunities.
In this comprehensive guide, we aim to elucidate the diverse career paths within this rapidly evolving field. Additionally, we will explore how advanced digital solutions, such as Cloud Dentistry, serve as invaluable resources for securing job placements, enhancing professional networking, and optimizing various other aspects of career development. Prepare to deepen your understanding of both traditional and emerging roles within dentistry as we chart a course through this expansive career choice.
The Arena of Dental Careers: Where Do You See Yourself?
As aspiring dental professionals, it is crucial to discern not only where your interests lie, but also where you can optimize your skill set within the comprehensive spectrum of dentistry. From clinical responsibilities to administrative undertakings, dentistry delivers multiple opportunities. Understanding the nuances of each can empower you to make informed decisions regarding your career trajectory.
Additionally, leveraging digital platforms like Cloud Dentistry can augment your job search, networking capabilities, and overall career development. Below, we dissect each of these areas in terms of roles, educational prerequisites, avenues for career growth, and how Cloud Dentistry can be seamlessly integrated into your professional journey.
General Dentistry
Role: As a General Dentist, you serve as the cornerstone of dental healthcare, encompassing preventative care, diagnostic services, and a wide array of basic therapeutic procedures.
Educational Requirements: Most individuals in this pathway complete an undergraduate degree in a science-related field, subsequently pursuing either a Doctor of Dental Medicine (D.D.M.) or a Doctor of Dental Surgery (D.D.S.) degree.
Career Growth: The career landscape is fertile, with possibilities ranging from joining multidisciplinary healthcare establishments to launching your independent practice.
Cloud Dentistry's Role: For those transitioning from educational settings to the professional sphere, Cloud Dentistry leads a curated job-matching service that can connect you with dental practices that align with your competencies and career aspirations.
Dental Hygienists
Role: Dental Hygienists are chiefly responsible for preventive oral care. They perform tasks such as cleaning teeth, examining patients for signs of oral diseases, and providing other preventive dental care.
Educational Requirements: An associate's degree in dental hygiene is typically required, alongside state licensure.
Career Growth: With experience and additional certifications, hygienists can specialize in areas such as pediatric dentistry or move into administrative roles.
Cloud Dentistry's Role: The platform provides listings tailored specifically to hygienists, helping them find opportunities that match their qualifications and preferences.
Dental Assistants
Role: Dental Assistants support dentists across a variety of tasks, from patient care and taking x-rays to record-keeping and appointment scheduling, ensuring efficient and effective procedures.
Educational Requirements: Some states require dental assistants to graduate from an accredited program and pass a state exam. In other states, there are no formal educational requirements, and dental assistants learn through on-the-job training.
Career Growth: Over time, dental assistants may choose to specialize in areas like orthodontics or seek further education to become dental hygienists or even dentists.
Cloud Dentistry's Role: Recognizing the pivotal role of dental assistants, Cloud Dentistry offers a myriad of job listings suited to their diverse skill set, aiding in their professional growth and advancement.
Specialized Dental Fields
Roles: This category includes, but is not limited to, Orthodontists, Periodontists, Pediatric Dentists, and Oral and Maxillofacial Surgeons.
Educational Requirements: Specializations necessitate postgraduate training, typically requiring an additional two to four years of focused education beyond a general dental degree.
Career Growth: Specializations come with not only the potential for higher remuneration but also a level of prestige and niche expertise.
Cloud Dentistry's Role: The platform offers a specialized job search algorithm that filters roles according to your expertise and educational background, thereby optimizing your job search efficiency.
Dental Administration and Management
Roles: These positions encompass Dental Office Managers, Human Resource Specialists, and Billing and Insurance Coordinators, among others.
Educational Requirements: While a bachelor's degree in Business Administration or a related field is advantageous, many professionals ascend to these roles through internal promotions, often starting as dental assistants.
Career Growth: With experience, one can oversee larger or even multi-location practices, potentially moving into regional or national roles in larger dental corporations.
Cloud Dentistry's Role: Apart from clinical roles, the platform provides a multitude of administrative job listings, significantly widening the scope of your job search.
Academia and Research in Dentistry
Roles: This segment includes Academic Professors, Research Scientists, and Academic Deans at dental schools.
Educational Requirements: These roles often necessitate doctoral degrees or highly specialized training, complemented by a strong portfolio of research publications.
Career Growth: Advancements in this sector can lead to tenured positions, significant research grants, and international scholarly recognition.
Cloud Dentistry's Role: Utilize Cloud Dentistry's networking capabilities to engage with research organizations and academic institutions, facilitating collaborations and professional growth.
Entrepreneurial Opportunities in Dentistry
Roles: If you're inclined toward business, options include Dental Practice Ownership, Dental Consultancy, or even pioneering a Dental Technology Start-up.
Educational Requirements: In addition to your dental qualifications, entrepreneurial endeavors often benefit from business acumen, possibly supplemented by an MBA.
Career Growth: Entrepreneurship grants virtually unlimited potential, bound only by your ambition and skill set.
Cloud Dentistry's Role: The platform's networking functionalities serve as a valuable resource for connecting with potential business partners, investors, or advisors who can assist in realizing your entrepreneurial visions.
As you contemplate your career pathway in dentistry, remember that today's choices lay the foundation for tomorrow's successes. Leverage the diverse opportunities and robust support systems available to you, including revolutionary digital platforms like Cloud Dentistry, to achieve a fulfilling and dynamic professional life.
Advantages of Cloud-Based Dental Staffing: Your Career on Turbo Mode
In an era characterized by pervasive digitization, it stands to reason that traditional job search methodologies are increasingly becoming archaic. Cloud Dentistry not only recognizes this transformation but actively capitalizes on it to uncover a comprehensive, multifaceted platform for career advancement in the dental field. In this section, we shall dissect the multifarious benefits of utilizing Cloud Dentistry for your professional journey.
Tailored Job Matching Through Advanced Algorithms
Traditionally, job hunting in the dental sector involved the tedious and time-consuming task of manually scouring numerous job boards, professional publications, and networking platforms. Cloud Dentistry revolutionizes this process by employing machine-learning algorithms that analyze your qualifications, experience, and preferred job parameters to provide a curated list of job openings that precisely align with your profile. This streamlined approach maximizes efficiency and increases the likelihood of finding a role that is congruent with your career objectives.
Strategic Professional Networking
In modern dentistry, networking is not merely advantageous—it is imperative. Cloud Dentistry's platform serves as a nexus for professionals at various stages of their careers. Whether you are looking to engage with industry veterans for mentorship, collaborate with peers for academic research, or connect with potential employers, the platform boasts many opportunities for comprehensive networking. The strategic interaction facilitated by Cloud Dentistry can exponentially amplify your industry visibility and open doors to uncharted professional territories.
Customizable Flexibility in Employment Types
Dentistry is becoming more varied, offering everything from standard full-time jobs to temporary fill-in roles, as well as long-term positions and project-specific work. Recognizing this, Cloud Dentistry provides a vast assortment of job types, thus allowing you the flexibility to choose a work arrangement that resonates with your lifestyle, financial goals, and long-term career vision. Whether you are seeking a broad range of experiences or an established professional looking for specialized roles, the platform's flexibility ensures that you can find opportunities tailored to your specific needs.
Charting the Trajectory of Your Dental Career—The Time is Now
To the aspiring dental professionals poised to make a significant impact in this multidimensional field, recognize that your career path is not a prescribed itinerary but an amalgamation of your unique skills, aspirations, and opportunities. Whether you find yourself at a crossroads of potential directions or possess an unambiguous vision for your future, Cloud Dentistry serves as an indispensable resource for transforming your career objectives into tangible accomplishments.
There is no opportune moment like the present to catalyze your journey toward professional achievement. A realm of possibilities awaits you in the dental industry, and with Cloud Dentistry, you are fully equipped to explore these diverse pathways with precision and confidence.
---
Are you prepared to elevate your dental career to unparalleled heights? Click here to check out Cloud Dentistry and embark upon a trajectory marked by innovation, growth, and resounding success.