The Guide to Maximizing Your Income as a Dental Hygienist
Dental Hygienist could be one of the most well-paying positions in the dental field, but it's vital to understand how to increase your potential pay.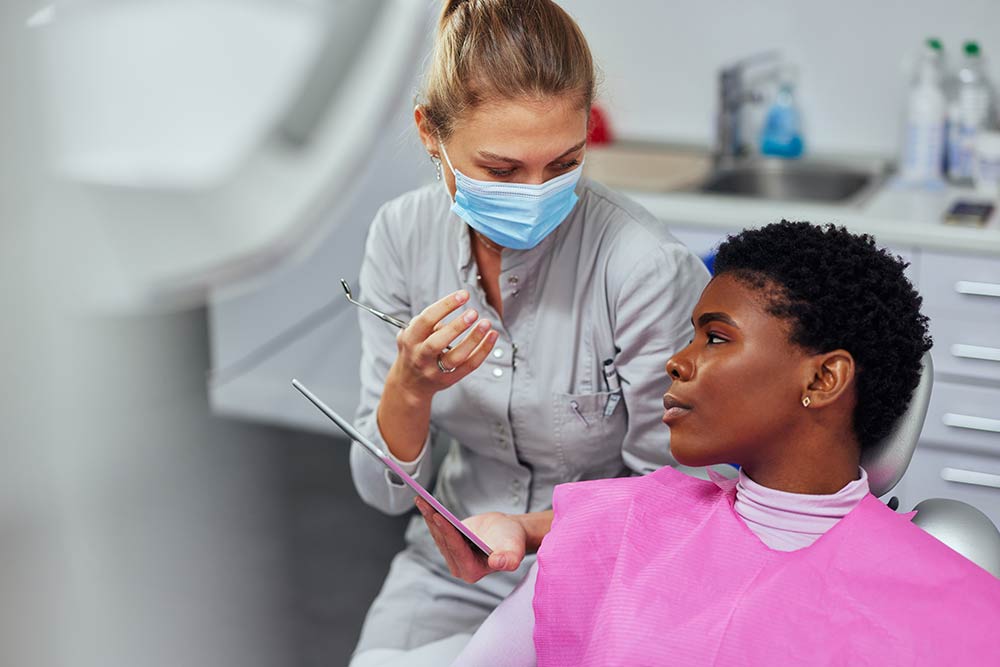 Dental hygienists play a pivotal role in the dental office, as well as in the oral health of each patient. Not only do you perform routine care, you also discuss preventative measures and screen for dental diseases. It's a vital role in dentistry that puts you right in the middle of the action, while also fulfilling the desire to help people.
The dental hygienist career is deeply satisfying—as long as the pay is commensurate with the hours, effort, and commitment you put into the role!
At Cloud Dentistry, we know that dental hygienist job satisfaction is often predicated on receiving pay you feel you deserve. That's why we put together this guide to maximizing your income as a dental hygienist—even if you're a temp trying to figure out your market value. From questions regarding independent contracting to possibly working in a temp setting, we've got you covered.
But first….
What Does a Dental Hygienist Do?
Dental hygienists assess oral health by conducting cleanings and inspections. They also assist a dentist as needed and counsel patients to help them maintain good oral health, teaching them about proper oral hygiene.
To be fully licensed, dental hygienists require an associate degree in dental hygiene and state licensure. Those who want to advance in their dental hygienist career should consider a bachelor's or master's degree in dental hygiene. These advanced degrees can help dental hygienists obtain positions extending outside of the dental office, such as those in teaching and research.
Anyone who endeavors to become a dental hygienist should be detail-oriented, dexterous, and patient. Strong interpersonal and decision making skills are also essential. A dental hygienist's main responsibilities include:
Clean and remove plaque, tartar, and stains
Perform and develop dental X-rays
Conduct a preliminary patient exam and assist a dentist as needed
Administer local anesthetics to patients prior to their procedures
Apply fluorides and sealants to a patient's teeth
Document patient treatment plans and overall care
Assess a patient's oral health
Educate patients on good oral hygiene
Communicate with dentists regarding dental findings on their patients
Use a variety of hand, power, and ultrasonic tools to perform their job duties
Choosing a Dental Hygiene Program
Whether looking for a full-time job or work as an independent contractor, prospective dental hygienists must select an accredited dental hygienist program in order to prepare for their duties in a full-time role. The right program can set you on the desired path toward a lucrative career as a dental hygienist. When choosing a dental hygienist program, consider the following qualities:
Location
Community colleges, dental schools, technical institutions, universities, and internet-based learning programs offer associate degree programs for dental hygienists.
Accreditation
Dental hygienists need to enroll in and complete an accredited dental hygienist program. An accredited program refers to a program that's been officially recognized or authorized. The Commission on Dental Accreditation (CODA) with the authority to present accreditation to dental hygienist programs.
Types
Dental hygienist prospects can consider the following three types of CODA-accredited programs for dental hygienists:
Entry Level: This program track is for students who have no previous experience in the field. The program levels include associate degree programs, baccalaureate degree programs, and post-baccalaureate degree programs.
Degree Completion: This program track is for licensed dental hygienists who want to advance their education beyond the entry-level program. Individuals who have obtained a certificate or associate degree in the field can also qualify for this program that grants a bachelor's degree in dental hygiene or a similar field.
Graduate: The graduate program track is appropriate for professionals seeking a master's degree upon obtaining their baccalaureate degree in dental hygiene or a similar field.
Length
The length of a dental hygienist program depends on the type of institution and the degree itself. To become a dental hygienist, an associate degree is the minimum requirement. In addition, a two-year program can allow prospective dental hygienists to enter the career field more quickly.
Check out this blog about things a pro dental hygienist wishes they knew before starting their career!
Finding a Job as a Dental Hygienist
It's crucial that dental hygienists complete their education—but a quality education doesn't automatically earn you a job in this highly competitive field. Dental hygienists should possess strong qualifications, setting them apart from the other candidates. Some important dental hygienist skills that should be featured on any resume include:
Dentistry expertise
Patience
Communication skills
Interpersonal skills
Attention to detail
Dexterity
Prospective dental hygienists should also highlight relevant work experience, including on-the-job training, supervised clinical experience, and entry-level job experience.
To increase your chances of landing a job, you should consider expanding your education. Obtaining a bachelor's or master's degree in dental hygiene can help qualify you for advanced positions or jobs outside of the dental office, such as teaching, research, or in an administrative position.
The U.S. Bureau of Labor Statistics demonstrates that the dental hygiene field is experiencing rapid job growth. As such, becoming a dental hygienist can be a fulfilling career option for those with a passion for it. To obtain a job in this profession, meet the necessary educational and licensure requirements so that you can begin helping patients of all ages.
Looking for some words of wisdom about what it's like to have a job as a dental hygienist? Check out this article from an industry professional.
Where do Dental Hygienists Get Paid the Most?
Dental hygienist positions are not created equal—not in terms of salary, that is. Certain locations throughout the country boast a higher average salary for the position than in others. On average, dental hygienists earned a median salary of $77,090 in 2020. But, again, it really depends on location and in what state you find employment as a dental hygienist.
According to data from the Dental Care Alliance, the top five states that pay dental hygienists the highest based on annual mean wage are:
Alaska — $115,050
California — $109,970
Washington — $95,450
Nevada — $89,360
New Jersey — $88,150
There are many factors at play when it comes to how much money you'll earn as a dental hygienist. While location is just one, it's crucial you have a good idea of where would be the most lucrative to work!
And getting a suitable dental hygienist raise is another story altogether!
Have you recently left your position as a dental hygienist? See what kind of remote work is out there waiting for you.
8 Ways Registered Dental Hygienists Can Start A Practice
Dental hygienist who start a practice can kick off a highly lucrative career by becoming a dental clinic owner. Your training and skills in the art of dentistry has prepared you for taking on this level of leadership, and are part of the equation to starting a successful dental practice.
But along with dental knowhow, you'll also need to utilize as much business knowledge as possible. Afterall, owning a business is a far greater proposition than merely working for one.
We've zeroed in on eight tips to help you on your journey to starting your own practice. These include:
Research To Understand What You Are Getting Into
Secure Licensing, Insurance, and Take Care of Legal Aspects
Securing Financing
Plan For Staffing
Team Up With Experts
Embrace Digital Marketing
Set Up Your Dental Office For Success
Take Business Classes
But that's only half the story. Check out our blog, 8 Ways Registered Dental Hygienists Can Start A Practice to learn more about each of the above tips.
How Dental Hygienists Should Ask For A Raise
Securing a raise—or even better, multiple raises on a regular basis—is a surefire way to maximize your income as a dental hygienist. However, asking for a dental hygienist raise is always a daunting proposition, no matter what field you work in. What's more, any time the economy seems to be in any type of slide, it can feel like an uphill battle to get approval for a raise.
It's important to remember that no matter what is going on within the dental industry or with the economy at large, you still have the right to ask for a raise. If you gauge the success of your place of employment and notice that things are going well, chances are there's room for you to get a raise. But how do you go about asking for one? Ah, that's a question for the ages.
We've put together a list of five tips you can employ in your effort to get a raise. Our five tips include:
Approach The Topic Gracefully
Let Your Employer Know What's In It For Them
Know In Advance What A Competitive Salary For Hygienists Looks Like
Consider Negotiating Benefits, Bonuses, And Perks
Provide Your Raise Request In Writing

But there's much more to it than the above bullet points! Check out our blog, How Dental Hygienists Should Ask For A Raise to dig even deeper into the quest for a raise.
---

Cloud Dentistry provides resources to dental hygienists just like you! We help you choose a dental hygienist program, find a job in the field, and start your own practice—while supporting your goals of steady work, exceptional pay, and patient loyalty.
Sign up with us today for FREE and learn more about how Cloud Dentistry has your dental hygienist career covered!